We welcome our alumni to join in the festivities of Mount St. Joseph University's Homecoming 2022!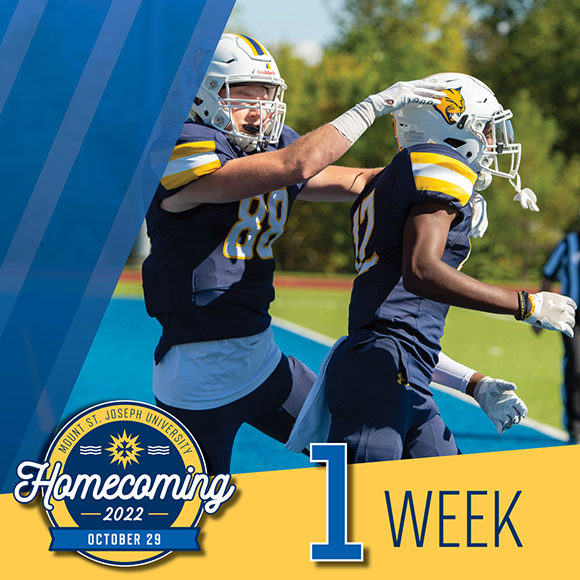 Beginning on October 27 through October 29, the Office of Alumni Relations at Mount St. Joseph University is excited to welcome alumni and their families back to campus for its annual Homecoming celebration!
This year, the Mount will host several events throughout the week. As always, the Homecoming tailgate on October 29th is a family-friendly event, with lunch and drinks provided. Registration is required for lunch.
Homecoming serves as a way each year to bring our alumni back "home" to campus -- to reconnect with one another, to revisit special memories and places on campus, and to witness all of the wonderful growth and success that the university has experienced.
Whether students graduated over 50 years ago, just a couple of months ago, or are a future alum, the Mount welcomes everyone back to join in on celebrating all that makes the institution such a unique and special place. With programming designed for the whole family, the Mount encourages everyone be a part of Homecoming weekend and bring their family to the Mount "family" to reconnect.
"We are so excited to welcome alumni and their families back to campus this year for Homecoming 2022," Mikayla Courtney excitedly says. "This year, our Homecoming celebrations have a little something for everyone – whether it is sharing a drink with friends at our Thirsty Thursday event or watching our Lions take on the Bluffton Beavers at the football game. It is going to be a great weekend and we hope to see you there!"
Homecoming 2022 Schedule of Events:
Thirsty Thursday
Thursday, Oct. 27 | Westside Brewing, 7-9 p.m.
Athletic Hall of Fame
Friday, Oct. 28 | Fifth Third Bank Hall, Reception at 5:45 p.m. | Programming at 7:15 p.m.
Homecoming Tailgate and Football Game
Saturday, Oct. 29 | Lions Park and Schueler Field, 10 a.m.-3 p.m.
Lunch is complimentary. Registration is required.
Register Today!
To register for Homecoming 2022, visit the registration link here. The Mount is excited to see you and your friends and family!