Kelsey McGraw and Alex Jung met at the Mount during his junior year and her sophomore year – and their friendship transitioned to love a year later.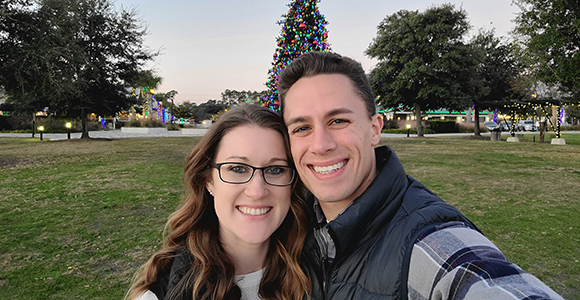 As the saying goes, it's always the best of friends that make the best partners in life, right?
MSJ graduates, Alex and Kelsey Jung seem to think so, after their natural progression in college that led them to say, 'I do.'  
Kelsey first saw Alex onstage introducing the Kamikaze Fireflies, a comedy juggling acrobat act brought to campus by Campus Activities Board (CAB), shown yearly at the Renaissance Festival.
"Being a part of CAB allowed me to have great fun, and even have a voice in what activities the college provided," says Alex. "This apparently provided me decent exposure as Kelsey's second time noticing me was when I was belaying the attendees of our CAB rock climbing event, though she couldn't find the opportunity to get in my rock-climbing line to introduce herself."
But it all started after meeting Kelsey prior to one of the weekend football games, when she stopped by Alex's dorm room with a friend to wish his football player roommate good luck for the game.
"My roommate, Robert Grogan, was already gone warming up for the game so I introduced myself. The introduction was cordial enough, so I offered her a 'nice to meet you' and 'see you later' hug. 'Rain check,' she said. And proceeded to walk down the hall to attend the football game."
After that, the two became very close friends over the next year, and with the addition of Alex's dorm roommate, the three made a good trio. Kelsey would even sit through 90 minute episodes of 'Sherlock' with Alex because she liked him, even though funny enough, he found out later she secretly disliked it the entire time.
After sparks flew, Alex remained persistent, and didn't give up quite yet.
"I knew she was a great catch and was one of my favorite people, which is why I couldn't wait to take her out on a date. But she kept me waiting for over a year. I knew I wasn't crazy, she felt something too. That didn't stop her from having that time-tested fear: 'I can't date you. You're too good a friend to potentially lose!' My mind just kept wondering, 'don't the best friends make the best partners in life?'"
A Year of Friendship Leads to a Lifetime Together
Finally after a year of friendship, Kelsey gave in and accepted Alex's proposal to go on a date. The two found themselves having fun at CAB events and making them date nights, attending concerts, festivals, paintball, dances, hypnotists, and comedians all thanks to the campus activities board.
Nonetheless, Kelsey and Alex stayed focused on academics; Kelsey particularly.
Alex recalls a humorous memory they shared while gearing up for a test.
"I remember I would help her study pathophysiology in her dorm room and she was so tired I was convinced she was asleep, but she still answered my quiz question! I can still hear her sleepy answer, "atherosclerosis." It was the correct answer, but she doesn't remember it at all!"
Proposal with a Twist
After they had both finally graduated, it was refreshing to experience being a couple without school in the equation.
Alex graduated from the Mount in 2015 with a major in biology, and then left his hometown of Cincinnati to attend graduate school in Dayton, Ohio to become a physician assistant. Kelsey McGraw finished her nursing degree in 2016, and then returned to her hometown of Dayton where their paths crossed once more.
From here, Alex began in emergency medicine, and transitioned to the ICU where he was blessed with the opportunity to work beside Kelsey while she was a nurse on the trauma unit and ICU. Most recently, Kelsey has transitioned to running the outpatient trauma clinic and the outpatient orthopedic clinic, while Alex has pursued aesthetic medicine at Inertia Medical.
When Alex was finally ready to propose, he rented out an evening at "Painting with a Twist." Their parents attended along with some close friends, and they started their instructional painting – everyone painting the same picture step-by-step.
At the end, everyone admired each other's works of art, and Alex sneakily had painted the words: "Marry Me?" into his picture.
Alex and Kelsey are excitedly expecting their first child, a boy, this November, 2022. "I got so much more out of the Mount than I expected," Alex graciously reflects.
Congratulations, Alex and Kelsey!
Interested in hosting your wedding at the beautiful Mater Dei Chapel? Visit the Mater Dei Chapel page to submit a wedding inquiry.