MSJ senior Mya Rhoden `23, dual licensure major in Early Childhood & Special Education and Ben-Gal holds an unstoppable passion and perseverance for dance.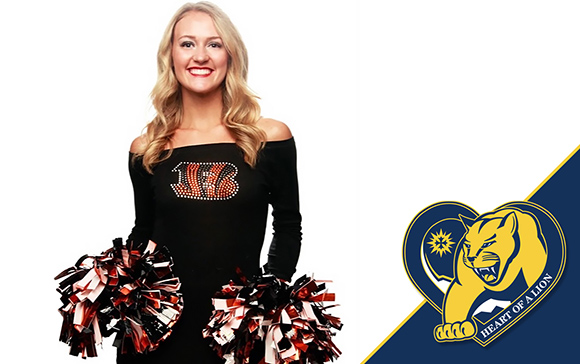 A cheerleader since she was five years old, Mya Rhoden was drawn into cheering and dance by the community involvement and performances. "I loved being able to make a positive impact on others working booths, at football games, and especially being able to be a role model for younger people. As far as performing goes, that's just fun!" she exclaims.
A Beacon of Inspiration
Mya recalls many memories growing up of competitive All-Star cheer and dance. However, one special memory she has made was cheering into adulthood at youth camps.
When she was younger, Mya attended youth dance camps where young children develop their skills and abilities in a community designed just for them. She looked up to the women that were older than her, admiring their impact on her and many others to this day.
Finally in high school, it was Mya's turn to lead these camps and dress up with the young girls.
"This showed younger girls that they can be anything, and stand up in front of large crowds and do what makes them happy. I was able to witness growth and confidence in younger girls," says Mya.
In God's Timing
From here, Mya spent lots of dedication and hard work to prepare for auditions of her own to pursue her cheerleading career. In 2021, Mya was a finalist for the Indianapolis Colts Cheerleaders. When the team was announced live on stage, she was disappointed to not see her name on the roster.
"I felt very discouraged, but I knew that I was not done trying. I met an amazing friend who traveled from Michigan who I shared an Air BNB with who reminded me it's in God's timing."
Inspired to not give up by the women surrounding her during the audition process, Mya spent the following year working on dances, flexibility, and her confidence. Her parents also always encouraged her to follow her heart in what she wanted to achieve, and nothing was getting in her way of reaching her dream.
Soon enough, she signed up to audition for the Cincinnati Ben-Gals.
"I had no idea what to expect. I just knew this was something I have wanted and dreamed of, even if it would take me a few years to accomplish," she reflects.
Determined and inspired every step of the way, Mya attended every dance prep class the Ben-Gals offered, and even practiced on her own the days they did not have a class, where she met the most supportive women during this process who cheered her on.
It was through her dedication along with the support of friends, family, women in her prep classes, and the Mount who supported Mya in reaching her dream goals with the Heart of a Lion. "These woman cheered me on for everything in life, whether it was dance/cheer-related or not. These ladies made me want to be an inspiration for someone else. I now can do what I love, while inspiring others to do what they love."
In terms of maintaining and ensuring her academic success, Mya learned by competing at a young age how to manage her time. During her time at the Mount, the Mount's advisors helped her balance her coursework and cheerleading.
"Once I enrolled full-time my freshman year of college, I was able to connect with my advisors to help put me on a path to where I could succeed while continuing my cheerleading career."
A Winning Audition
After the Ben-Gal audition's final showcase, Mya had no idea what to expect. She wasn't sure how they could only choose 30 women after watching so much talent. Unlike the Colts audition where she found out immediately live on stage, the Ben-Gals would update their roster online to announce the 2022 team.
"We were not sure what day or time the roster would be posted. I received a text while sitting at the pool that said 'the new roster is up.' I immediately saw my headshot on the roster and screamed, 'I made it! I am an NFL Cheerleader.' I couldn't believe it. I still to this day cannot put into words how happy I was at that moment; it was like everything finally fell into place. Knowing that I made this team after the hardships from the previous year made me feel so grateful. I am so honored to be a part of this organization."
Mya's advice for others who are on similar trajectory is for them to try their very best and to not give up. You may not get the results immediately, but the end result is rewarding and worth it.
"If it is your dream and you love doing it, don't ever let the challenges stand in your way. Be dedicated. The results will come."
__________________________________________________________________________________________________
About our Education Program: In-person and Online Options
The School of Education faculty prepares students to transform into competent, collaborative, caring, and reflective practitioners. Nearly 98% of surveyed education graduates were employed or enrolled in graduate studies after graduation, and are giving back in big ways.
Interested in learning more? Check out our School of Education page to see our majors and licensures, with both in-person and online options.