MSJ Alumni, Taylor Ruder '16, Describes Her Mount Experience as an Athletic Training Major, Her Current Career Path as an Athletic Trainer at St. Elizabeth Sports Medicine and Dixie Heights High School, Along with her impressive competitive powerlifting accomplishments!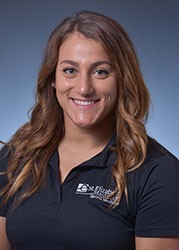 1. What was your graduation year and major?
I graduated from MSJ in 2016 with a major in athletic training and a minor in exercise science.
2. What inspired you to pursue your major(s)?
Throughout my entire life, I have always been very active and have played a variety of sports.  Being highly active sometimes comes with a handful of injuries.  I always knew I wanted to do something in healthcare and from when I was a little kid I wanted to help people.   I initially wanted to pursue PT school but fell in love with athletic training and sports medicine.
3. Why did you choose the Mount?
I chose the Mount primarily for the small class size. I also had a great interest in playing collegiate volleyball for Jon Bennett.  Once I learned the Mounts history of the campus and the volleyball program, I knew it would be a great fit!
4. What field did you pursue after graduation? How was the Mount instrumental in preparing you for your future career path?
After graduation I knew I wanted to continue learning more and keeping up with the research, learning new skills as well as jumping into health administration.  I have worked at St. Elizabeth Sports Medicine for the past 5 years and I am currently the Head Athletic Trainer at Dixie Heights High School.  This past year I also completed my MBA at the University of the Cumberlands.  From the Mount, I learned to be a student that never stops wanting to learn, to continue to learn new skills, and to give back to those that can benefit from those skill sets.
5. Was there a professor/instructor that helped your development as a person?
I had one of the best support systems at the Mount.  Between my instructors (BC), preceptors (Nate Hoffmeier), and coaches (JB and Cristina Webb), all four individuals have taught me to be better and do better in all aspects of life.  They all set high expectations inside and outside of the classroom.   I cannot thank them enough for engraving this in me.
6. Did you co-op/intern? If so, where?
Throughout my college experience, I was given many great opportunities to do clinical rotations.  I was able to experience covering as an AT student at Colerain High School, worked with many of the collegiate sports on campus at MSJ, as well as St. Elizabeth Sports Medicine where I am now employed.  As athletic training students, we were also given the opportunity to work with the Cincinnati Cyclones as well as the Cincinnati Bengals.
7. What was your involvement like at the Mount? Extracurricular activities, major projects, etc. that you would like to share.
 I was active in extracurricular activities during my time at the Mount.  I was active in SAAC, was the VP of the athletic trainer club, and assisted in collecting data for Alzheimer's and dementia patients at Bayley adult day.  During my time at the Mount playing volleyball, I loved training and I really enjoyed strength training.  Coach Cris mentioned a female named Laura Phelps who did powerlifting and is now known as one of the strongest women in the world.  After college, I kept training but I missed competing.  That is when I started competing in powerlifting and I eventually hired Laura as my coach.  Powerlifting includes the squat, paused bench press, and deadlift which results in a total of all three lifts being successful in competition.  I am currently ranked 13th All-Time in the World in my weight class with a 1300lb total consisting of a 515lb squat, 270lb bench press, and 515lb deadlift.  JB and Cris have instilled different types of work ethic in me that I never knew were possible.  I wouldn't be where I am today as an athletic trainer or the athlete I am without them.
8. How would you rate your educational experience at the Mount, and how was it a strong fit for you?
The education that I received was exceptional.  The small classes provided friendships that will last a lifetime as well as evidence-based practices and hands-on experiences have led me to be the athletic trainer I am today.  The Mount holds a special place in my heart.