Mount St. Joseph University welcomes Miranda Calhoun as the new Head Dance Coach & Spirit Squad Coordinator.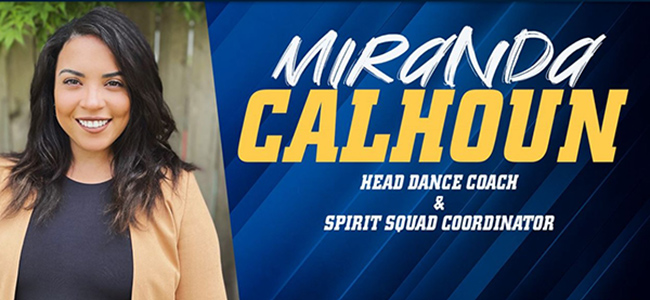 CINCINNATI, Ohio - Miranda Calhoun has joined Mount St. Joseph as the new Head Coach of the MSJ Dance Team and as the coordinator of the new MSJ Spirit Squad, announced by Director of Athletics Melanee Wagener. 

"During the search process it became abundantly clear to the search committee and myself that Miranda was the right person to lead the MSJ Dance and Spirit Squads going forward," said Wagener. "We are extremely excited by the level of experience and professionalism that she will bring to this position."

Coach Calhoun comes to The Mount after spending nearly a decade as the head dance coach at Bowling Green State University (BGSU). During her time at BGSU she coordinated with the athletics department and marketing on game day atmosphere and general traditions. She and the BGSU dance team traveled to the Universal Dance Association College Nationals. She was also charged with advising student-athletes on education and academic scheduling, helping college students acheive their goals after college.
"I am very excited to start as the Spirit Coordinator and Head, Dance Team Coach," said Coach Calhoun. "I will use this amazing opportunity the Mount has given me to promote the growth of a spirit atmosphere along with a positive evolution within the dance team."

Coach Calhoun also spent time at the Toledo School for the Arts from 2012-2022, where she served as the Black Student Union Advisor and Chair for the Employee Involvement Committee, while serving on the schools Board of Directors as a faculty representative. 

"I would like to thank the interview committee, Athletic Department, and Melanee Wagener for allowing my vision and commitment to spirit to come to life on campus and in athletics, while seeing the determination I will bring along the way. The motivation from the department and within myself will help the Spirit Program continue to develop at the University. I am thrilled for this journey here at the Mount and cannot wait to get started!"