Mount St. Joseph University's Director of Athletics, Melanee Wagener has named Maisie Elston as the new head coach of the Lions women's basketball program.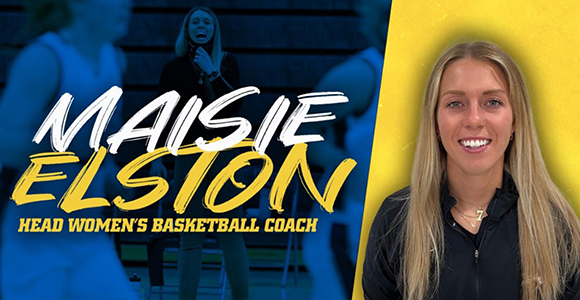 "We are extremely excited to bring in Coach Elston to take the reins of our women's basketball program," said Wagener. "We are confident that Maisie will come in and build a program with a championship team culture and consistent identity on and off the court. During this extensive search it became clear to the search committee that Coach Elston was exactly what we needed to lead this program going forward."
"I am extremely excited to be named as the next head women's basketball coach at Mount St. Joseph University," said Coach Elston. "It is truly an honor to be given the opportunity to lead this group of young women both on and off the court. I look forward to building a championship culture and leading this program to new heights!"
Coach Elston comes to the Mount after a short one-year stint as an assistant coach at Indiana University East. Prior to this experience, she spent five seasons at Heartland Collegiate Athletic Conference rival, Earlham College. During her stay a Earlham, she served as the assistant until being named the interim head coach in February of 2021. 
During her time at Earlham, Elston oversaw or aided in every aspect of the program including, but not limited to: recruiting, scouting, scheduling, planning practice, player development, and strength and conditioning. She was also a champion of diversity and inclusion during her stay in Richmond, serving on the university's diversity and inclusion task force, helping to create a transgender policy for Earlham Athletics, and helping to co-form the faculty Queer Athletes and Allies Collective. 
Originally from London, England, coach Elston came to the states to play basketball collegiately at Houston Baptist University. She also competed at the international level representing her nation at both U18 and U20 European Championships. 
"I want to thank athletic director 
Melanee Wagener
 and the search committee for believing in my vision and entrusting me with leading the women's basketball program," she says. "It is such an exciting time to be at MSJ with the multiple successes throughout the athletic department and the recent athletic facility renovations. I cannot wait to be a part of their winning culture and bring the women's basketball program up to that championship level."
Coach Elston is a proud member of the Women's Basketball Coaches Association (WBCA) and was named to that organization's prestigious "Thirty Under Thirty" list.