Mount St. Joseph University announces the School of Education as the July "Pride of the Lions!"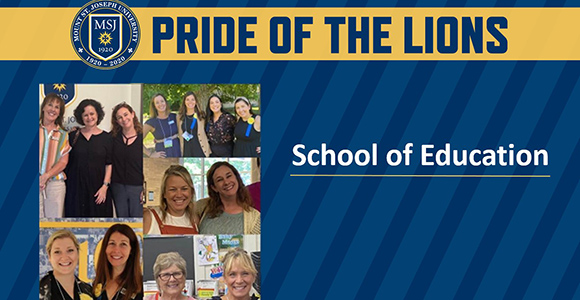 Dear Mount Community,
The recent Reading Science Summit welcomed 40 doctoral students from around the Country for a one-week institute, hosting a community conference for 300 educators! The Reading Science program is a community of professionals whose mission is to make sure EVERY child has access to high-quality literacy practices and effective reading instruction.
These events were born out of Dr. Amy Murdoch's commitment to children of all ages, and to making sure teachers and all those committed to the cause have the knowledge they need to do the good work.  The events were made possible because of the efforts of the Reading Science Program faculty and staff, and the School of Education colleagues whose help they enlisted.
As LIONS, they show great pride and care for our MSJ family and our wider community; possess grace and grit; model strength of conviction; demonstrate passion and generosity; and are fierce when it comes to "daring to risk a caring reponse" -- for ALL!
Please join me in applauding the Reading Science program and the Reading Science Summit -- and thanking the School of Education!
Sincerely,
H. James Williams, Ph.D.
President