Ohio State Representative Cindy Abrams and State Senator Louis Blessing provided insights on the legislative and political process for students in Mount St. Joseph University's final Healthcare Policy class.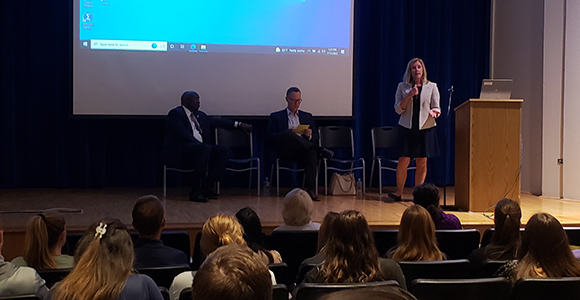 On July 11, MSJ Doctor of Physical Therapy and MSN-MAGELIN students were afforded a great experience in their last class session of Healthcare Policy (PT 753 and NUR 640 respectively) taught by Drs. Erin Hofmeyer, PT, DPT, GCS, and Janet Wray, RN, Ph.D.
After a warm welcome from Mount St. Joseph University President Dr. H. James Williams, Ohio State Representative Cindy Abrams and State Senator Louis Blessing III provided insights on the legislative and political process for students as future health professionals. Students were encouraged to ask questions of the two legislators who provided insightful commentary on current issues impacting not only health care, but socioeconomic factors as well.
Following their discussion, students presented their research on a variety of issues impacting the current healthcare system using infographics.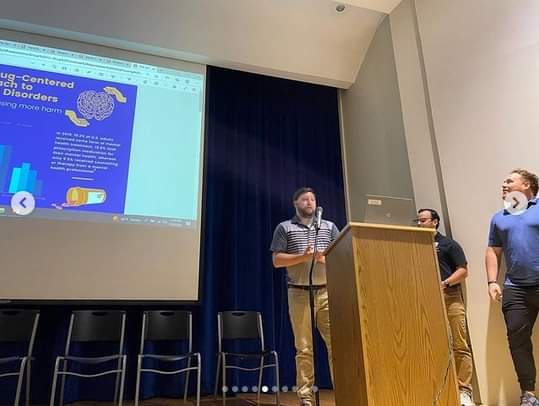 Photo: MSJ student presenting infographic on current healthcare system for Health Policy class.
"This event was a valuable educational experience for students in both the nursing and physical therapy professions," says Assistant Professor & Assistant Director of Clinical Education, Dr. Erin Hofmeyer. "Later this summer, these students will enter the clinical environment. Having an opportunity to study and discuss professional advocacy and issues from state legislators allows for our students to actively engage in this process as both a consumer and providers of healthcare."
Furthermore, students heard directly from these legislators about best practices for self, patient, and professional advocacy through various contact mechanisms. Several critical health and societal state laws were discussed including mental health care, professional licensure compact, portability acts, and affordable housing. Having a forum to explore and discuss these issues, with these respected state-level lawmakers, allowed students to have an active connection to health policy.
The event succeeded in providing an active application of various concepts explored throughout the Healthcare Policy course this summer. 
"Dr. Wray and I are thankful to President H. James Williams, Ph.D., Dean of Health Sciences Dr. Darla Vale, and the other members of the Health Sciences leadership team for supporting and participating in this culminating event," says Dr. Hofmeyer. "Our programs are excited for future partnership opportunities with both Representative Abrams and Senator Blessing and other legislators to enhance student learning outcomes."
The reputation of the School of Health Sciences is built upon decades of education and preparing professional practitioners of nursing, physical therapy, and athletic training. Interested in learning more about our programs? Visit the School of Health Sciences page to view our healthcare programs with personalized attention to meet your needs.