Mount St. Joseph University welcomes the new Vice President for Institutional Advancement, Sydney Prochazka.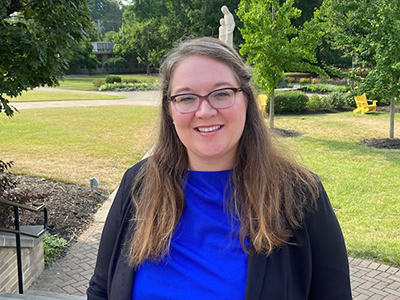 CINCINNATI, Oh. – Mount St. Joseph University has announced the appointment of Sydney Prochazka as its Vice President for Institutional Advancement.
 "I am pleased to return to Cincinnati, a city that I love, which has been my home three times now. I am excited to put my skillset to good use and help make higher education more accessible and affordable for all students who seek it at the Mount," said Prochazka. "I look forward to building relationships with Mount St. Joseph University partners to create new possibilities that best serve our students and the University going forward."
A native of Wisconsin, Prochazka brings a wealth of development experience, most recently serving as Philanthropy Advisor and Alumni Outreach Manager at the University of Saint Mary of the Lake/Mundelein Seminary in Mundelein, IL where she cultivated donor relationships, created a new multiyear commitment Class Sponsorship  program, and spearheaded new donor recognition societies.
"We are thrilled to appoint Sydney Prochazka as our new Vice President for Institutional Advancement" said Mount St. Joseph University President, Dr. H. James Williams. "Her past accomplishments in development and her proven leadership skills will have an immediate and positive impact on our current and incoming students."
Previous to her position at Mundelein Seminary, Prochazka was the Director of Major and Planned Giving at St. Catherine's in Racine, WI and Director of Development for the Little Sisters of the Poor at their Sacred Heart Home in Oregon, OH.
Prochazka earned a Bachelor of Arts Honors Degree from Xavier University where she also served as an adjunct professor in the political science department. She also has a Master of Arts in Public Policy with a concentration in Philosophy and Social Policy from the George Washington University. She currently resides in Delhi Township with her husband and three children.
About the Mount
As a Catholic institution rooted in the values of the Sisters of Charity, Mount St. Joseph University excels at serving the common good. Undergraduate, graduate, and doctoral students at the Mount are inspired to think beyond the classroom and redraw the bounds of what's possible for their futures. This is accomplished through individualized educational experiences, a safe, secure campus environment, and an all-in commitment from faculty and staff to inspire students to reach their highest potential. The Mount fosters life-long learners who serve, care, and contribute to the world beyond their front doors. 
###