The Reading Science Summit will feature Dr. Julie Washington, a national reading expert focused on the intersection of literacy, language variation, and poverty in African American children.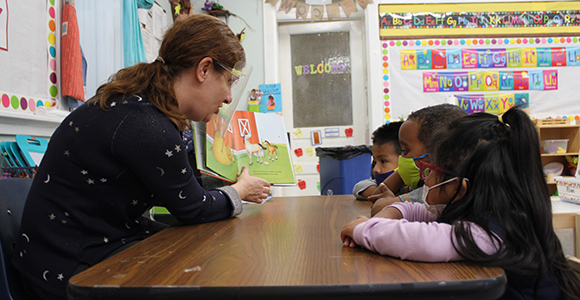 CINCINNATI, Oh. – Mount St. Joseph University (MSJ) - a recognized leader in reading science and education - is hosting a Reading Science Summit on June 29th at the school's Delhi Township campus.
The sold-out summit - Bridging the Research to Practice Gap - will be attended by approximately 300 educators. In addition to the Keynote address by Dr. Washington, there will be over 30 breakout sessions focused on teaching reading and writing to children in preschool through high school. Session speakers include MSJ Reading Science faculty and doctoral students and other invited national experts. Between participants and presenters, more than 25 states will be represented at The Reading Science Summit.
The Summit's focus will be on teaching reading and writing following the science of reading as the way to improve reading outcomes for all children, particularly in low-income communities that have been hardest hit by the learning loss that has been experienced by the pandemic.
"There are a devastating number of children who are not reading well," said Mount St. Joseph University's Amy Murdoch, Ph.D., an Assistant Dean and Associate Professor of Reading Science Program in the School of Education. "Research has shown us the most effective ways to teach reading. As a community, we need to support our hard-working teachers by equipping them with the knowledge and skills to teach all children to read. With the impact of the pandemic, the need is greater now than ever before. The Summit is designed to provide teachers with practical instructional strategies and information to support the reading growth of their students, especially students who are struggling with learning how to read and write."
Julie A. Washington, Ph.D., a professor in the School of Education at the University of California - Irvine (UCI) and a renowned speech-language pathologist, will deliver the Summit's keynote address, Teaching Reading to African American Children: Uplifting Language Variation.
Dr. Washington directs the Learning Disabilities Research Innovation Hub funded by the National Institutes of Health, Eunice Kennedy Shriver National Institute on Child Health and Human Development. She is also director of the Dialect, Poverty and Academic Success Lab at UCI.
Currently, Dr. Washington's research is focused on the intersection of literacy, language variation, and poverty. In particular, her work focuses on understanding the role of cultural dialect in assessment, identification of reading disabilities in school-aged African American children and on disentangling the relationship between language production and comprehension on development of reading and early language skills for children growing up in poverty.
"We are honored and thrilled that Dr. Washington is delivering the keynote address," Dr. Murdoch said. "She is a leader in improving students' reading outcomes and can provide teachers valuable insight and direction into how we best serve every child."
Mount St. Joseph University President H James Williams, Ph.D., said the Summit will not only provide valuable insight and instruction for educators but also reinforces the Mount's role as a pioneer and leader in education.
"I am immensely proud that the Mount is the host for this informative and important national Reading Science Summit," Dr. Williams said. "The Summit is yet another example of the Mount's commitment to high-quality academics and transformative research and leadership."
Summit breakout sessions include:
Extending Research to Engage Students and Families and Build Successful Readers.
Implementing the Science of Reading - Lesson Learned from a Large Urban School District.
Literacy Building for the Preschool Child.
Teaching Beginning Writers.
Alphabetics Intrusion for Second Language Learners
Writing in the Content Areas
Raising Reading Outcomes During a Pandemic
The Science of Reading and Montessori Practices.
Mount St. Joseph University has evolved into a recognized leader in reading science and is nationally recognized for its Reading Science program and how they prepare University students from undergraduates through doctoral students in the area of understanding and teaching reading. The program has received recognition from the International Dyslexia Association, The Reading League, and the National Council for Teacher Quality. MSJ has a fully online graduate program for current educators seeking a reading science certificate, dyslexia certificate or master's degree that includes educators from around the country.
 Last year, the Mount launched a new Doctor of Education program in Reading Science, the first doctoral program in the Mount's School of Education. The Reading Science doctoral program is designed for educators and change makers who want to lead system changes that assure ALL children are taught to read by educators who use highly effective, research-based methods.
About the Mount
As a Catholic institution rooted in the values of the Sisters of Charity, Mount St. Joseph University excels at serving the common good. Undergraduate, graduate, and doctoral students at the Mount are inspired to think beyond the classroom and redraw the bounds of what's possible for their futures. This is accomplished through individualized educational experiences, a safe, secure campus environment, and an all-in commitment from faculty and staff to inspire students to reach their highest potential. The Mount fosters life-long learners who serve, care, and contribute to the world beyond their front doors. To find out more, visit: www.msj.edu.


###