Mount St. Joseph University proudly announces the April "Pride of the Lions" is Chair and Program Director of Physician Assistant Studies, Patrick Cafferty!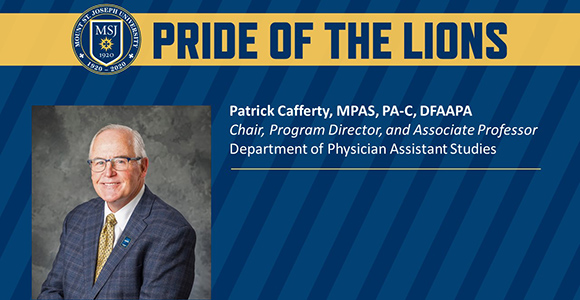 Becoming a new, fully-accredited Physician Assistant ("PA") program requires at least three lengthy applications, with subsequent site visits and self-study reports. This process spanned seven years and involved diligent record-keeping, attention to detail, excellent communications, and writing skills that compete with a seasoned journalist. While all members of the PA program contributed to the recent continued accreditation status, Patrick Cafferty is the person who orchestrated every step of the process and made decisions that are congruent with the ARC-PA standards AND the program's mission and vision.
In addition to preparing for the site visits, he worked tirelessly to ensure the program's operations would educate successful PA students who will, someday, be leaders in healthcare, because of their compassionate approach and life-long commitment to learning and service. We cannot imagine any other version of the PA program than the one Patrick created and from which he never wavered.