Doctor of Nursing Practice (DNP) graduate, Gretchen Rogers `18 loved the blended online format and on-campus DNP curriculum that opened new doors for her nursing career as a registered nurse, to a nurse practitioner.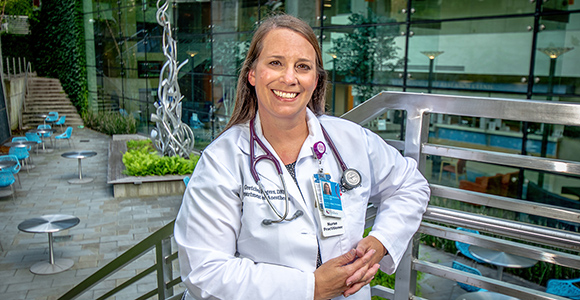 After working in a veterinarian's office and a short stint in pharmacy school, Dr. Gretchen Rogers, DNP '18, wasn't quite sure where her career would go. She liked the clinical environment, but wanted to work directly with people as patients. She powered through a fast-track nursing degree program, and while in graduate school, worked as an RN in Pediatrics at Cincinnati Children's Hospital Medical Center (CCHMC). After a few years working for the Cincinnati Health Department in inner city schools, she returned to CCMHC in 2005, and is proud to be a nurse practitioner in the Pre-Anesthesia Consultation Clinic.
Dr. Rogers works with a variety of patients, providing necessary examinations, education, and care plans for anesthesia procedures related to surgery. For children who must have hours worth of radiology, her support of the patient is especially crucial. Other patients have complicated medical histories or are scheduled for complex procedures, so Dr. Rogers collaborates with other specialists while consulting with patients and their families.
Her patients, each with their own unique needs, are a result of CCHMC's global reach as a leader in health care. For Dr. Rogers, this means every day is filled with learning and personal growth.
"I'm motivated everyday by the smallest, sickest and frailest of children, who are amazingly resilient," she said. "They are truly inspiring and enlightening."
Dr. Rogers was attracted to the Mount's Doctor of Nursing Practice (DNP) Program for several reasons, including its blended online format with a few on-campus sessions each semester, and online study in between. This enabled her to manage the course load while working full time. For Dr. Rogers, the structure of the Mount's DNP offered an additional perk.
"I really appreciated that the program incorporated on-campus course work, versus the structure of an entirely online program. I was able to connect with and learn from local leaders in nursing and health care, which I found to be very valuable."
For her DNP Implementation Practice Project, Dr. Rogers researched and implemented telehealth, an online system for preparing patients prior to their surgery appointment in the Pre-Anesthesia Consultation Clinic. This extensive effort entailed working with several other departments, including other patient centers and the hospital's technology team, as well as conducting a pilot study.
Central to the success of telehealth is the continuum of patient care, but with fewer visits to the hospital or fewer phone calls. With telehealth, NPs like Dr. Rogers can still complete patient assessments and begin formulating care plans, while families can complete part of the process in the comfort of their home. Dr. Rogers's work has been so successful that CCMHC is now implementing the use of telehealth on a routine basis within her department, with plans to expand its use in the future.
Dr. Rogers's success didn't stop there. In September 2018, she presented her DNP Project at the National Doctors of Nursing Practice Conference. At the last minute, she learned she had to present her findings not once, but twice. For her, it was equal parts pride in her work, and conquering her fear of public speaking. She's also honored to have had her work, "Using Telemedicine for Pediatric Pre-anesthesia Evaluation: A Pilot Project" published in the Journal of Peri-Anesthesia Nursing.
Since completing her DNP, new doors have opened for Dr. Rogers, including adjunct teaching at the graduate level. As a nurse practitioner at CCHMC, Dr. Rogers's excited about her future and her role as a frontline health care provider.
About DNP
The Department of Nursing at Mount St. Joseph University has an outstanding reputation built on a century of educating nurses, and the DNP program offers a part-time, flexible program to meet your career needs.
Are you a nurse interested in leadership positions within your field? Visit the Doctor of Nursing Practice program page to learn more!