Bryce Youngquist, a graduate student in the Master of Physician Assistant Studies program, named a national finalist in the National Health Service Corps Student to Service Loan Repayment Program!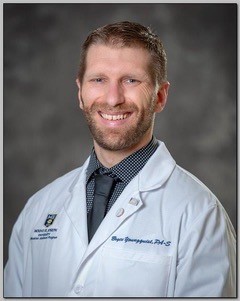 Bryce Youngquist is currently a graduate student at Mount St. Joseph University working on completing his Master degree in Physician Assistant Studies (MPAS). His expected graduation date is this spring in May of 2022. Bryce is originally from California and he said what solidified his choice on The Mount was his interview with the PA faculty. He said he immediately felt "warm and welcomed" and that the university "felt like home" as soon as he stepped through the doors.
When Bryce entered the last few months of his 27-month long MPAS journey, he was notified about an exciting opportunity through the National Health Service Corps (NHSC). Medical, nursing, and dental school students in their last year of study, Bryce explains, may be eligible to "receive loan repayment assistance from the NHSC Students to Service Loan Repayment Program. In return, you provide at least three years of service at an NHSC-approved site in a designated Health Professional Shortage Area (HPSA)."
Bryce decided to apply and is now a finalist in this national program. Bryce will officially find out the results by April 15th, 2022. If Bryce is selected for one of these coveted positions he will be assigned a NHSC location where he will serve as a primary care physician in an underserviced area in the United States for 3 years and in return he could have up to $120,000 of his student loans paid off. Bryce said the NHSC Students to Service Loan Repayment Program is a perfect representation of what Mount St. Joseph University stands for, combining the new skills he learned with community service and giving back to those in need.
The best of luck to Bryce and his family during this exciting time!