MSJ graduates, Austin and Katie Cagle share their Mater Dei Love Story.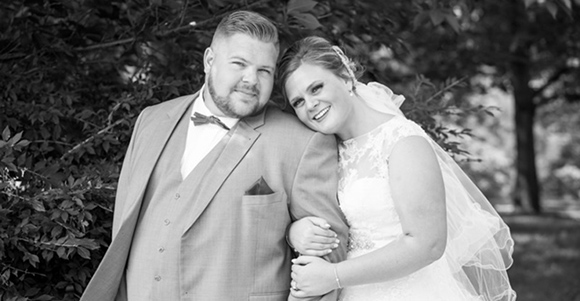 While their love story took time to flourish during their college years, Mount St. Joseph University became the catalyst for Katie and Austin's, "I do."
Katie "Hornback" Cagle, a local to the west side of Cincinnati, wished to earn her degree close to home. She pursued her major in Inclusive Early Childhood Education at the Mount where she met Austin, a Northern Kentucky local who decided to attend the Mount to play soccer and earn a Bachelor of Science degree in Sport Management.
Their love story began when Katie started attending MSJ soccer games to cheer on her younger brother, who was a team mate to Austin. The two shared their love for the Mount and the soccer team, but waited until they both graduated to have their first date.
After a dinner at the Incline Public House, followed by Graeter's ice cream and a first kiss at General Custers mini golf course, Katie and Austin both knew they were with the love of their lives, and wanted to spend the rest of it together.
Going the Distance
"I knew Katie was the one a few months after we started dating," says Austin. Early on in their relationship, Katie's family took a trip to Ireland while Austin's family already had a trip planned to Daytona. With the several hour time difference and lots of family events, it made talking to each other a big challenge. "Getting through this two week separation was hard, but it made me realize I never wanted to be apart again," Austin adds.
Austin proposed on New Year's Eve of 2017, followed by marriage on June 1, 2019. They have two beautiful sons together, Oliver and Everett, and one beagle Copper who keeps them on their toes. Katie is currently the Preschool Director at local west side elementary school, St. Williams, while Austin is currently entering his sixth year at U.S. Bank within the Treasury Management division.
They would like to thank the Mount for providing four exciting years of their lives, and bringing them together. If they would have decided to go to any other school, their love and beautiful love story would not be possible.
"Without the Mount, Katie and I never would have met each other, fallen in love, and be where we are today," says Austin. "It was so exciting to go back to the Mount during our engagement to do some pictures. It made us appreciate the moments and memories we have and will cherish forever."
Interested in hosting your wedding at the beautiful Mater Dei Chapel? Visit the Mater Dei Chapel page to submit a wedding inquiry form.