Dr. BC Charles-Liscombe appeared on Channel 12, "What's Happening in Health" series discussing the importance of healthy habits.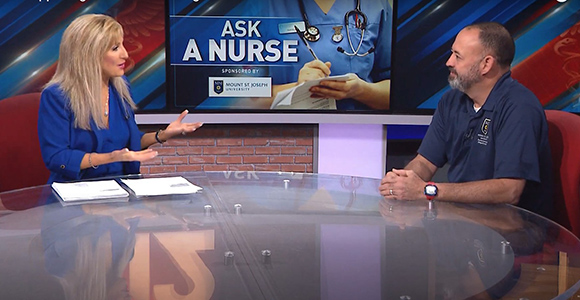 On November 28, 2021, Dr. BC Charles-Liscombe, Ph.D., Department Chair and Associate Professor for the Department of Exercise Science and Integrative Health at Mount St. Joseph University was featured on Channel 12's local show, "What's Happening in Health?" series where he speaks on the benefits of a healthy lifestyle.
According to Dr. Charles-Liscombe, he says that being active and reducing sedentary activity has multiple benefits across the life span. He asserts the importance of individuals who can advocate and help other individuals be active.
"Building in that time is a gift to yourself, and a gift to others," emphasizes Dr. Charles-Liscombe. "If you're active, you're going to be available both mentally and physically to others, and so we want to make sure that people are thinking in that way."
The Bachelor of Science in Health and Exercise Science provides four available concentrations, including Clinical Exercise Science, Sports Performance and Active Aging, Health Promotion, and a Health and Exercise Science 3+2 Master of Athletic Training program.
Moreover, Dr. Charles-Liscombe provides examples of integrating physical activity throughout the day as a lifestyle. Choosing to do small, incremental steps to be active, involving family, friends, and co-workers in activities demonstrates a variety of health benefits. This may include choosing to take the stairs, getting up every half hour while at home, and stretching at a desk while working. Anything someone can do to be active demonstrates a better health benefit.
Opened this past year, the Austin E. Knowlton Fitness Center and Centennial Field House at the Mount has involved and benefited many MSJ students, highlighting the Mount's commitment to the balanced development of body, mind, and spirit.
Interested in promoting wellness, enhancing quality of life and increasing physical activity across the lifespan? Click here to learn more about Exercise Science and Integrative Health at Mount St. Joseph University.
Watch Dr. Charles-Liscombe's interview on Channel 12, "What's Happening in Health" below: