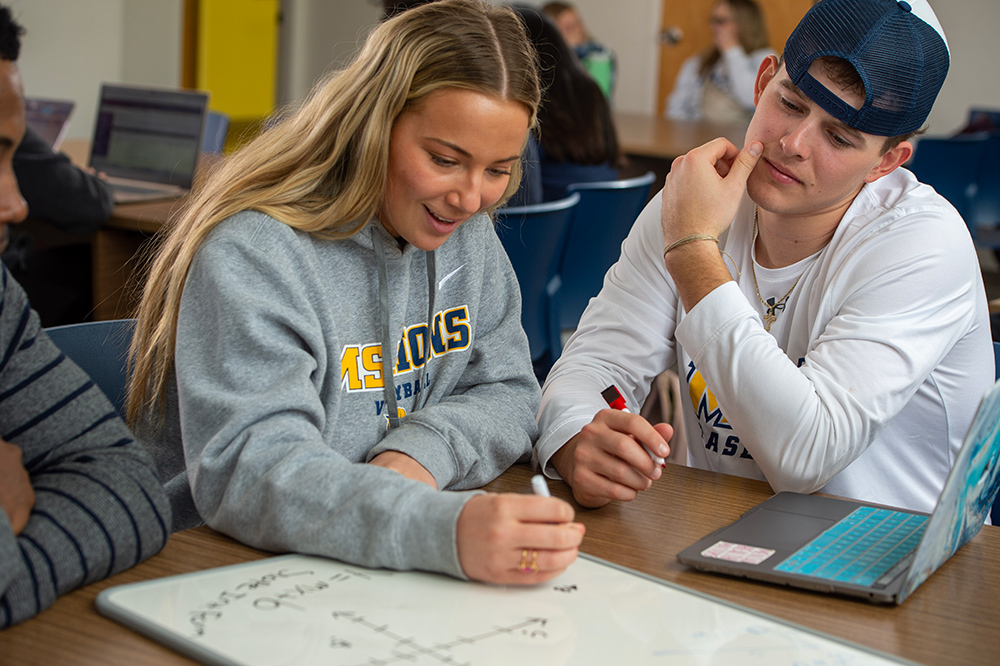 The Honors Program at Mount St. Joseph University is a close-knit community of highly-motivated students and experienced faculty. Together they tailor a variety of learning experiences to fit students' academic needs. We challenge you to see connections among various disciplines and to gain an integrated worldview.
How to Apply
To join the Honors Program, all eligible students should enroll in the Honors section of CORE 115 Common Ground. At the midterm point of the course, you may apply to the Honors Program.
Honors students at Mount St. Joseph University can major in any offered undergraduate program. If an Honors course does not exist your study area, faculty will help you design extra work in a standard class to earn Honors credits. With the Mount's small class sizes, students receive the personal attention necessary to achieve academic and personal success.
Eligibility Criteria
The Honors Program welcomes traditional students who meet the following criteria:
ACT-SAT scores at the 75th percentile level.
Upper 25 percent class rank is preferred, but not required, as class rank numbers vary by high school.
A 3.2 GPA or higher.
High school course selections that indicate a desire and an ability to undertake vigorous academic challenges.
Features
Students in the Honors Program have a variety of opportunities to expand their learning beyond the typical classroom expectation, such as the following:
Priority registration each semester.
One-on-one collaboration with faculty/mentors.
Honors Program designation on official transcript and diploma.
Special access to campus speakers and guests.
Participation in regional and national conferences. 
Student & Faculty Viewpoints
Hunter Mills '22, Biomedical Sciences
"Before attending college, I was not the most involved student. I had always played baseball, but never expanded my horizons. The Honors Program has allowed me to make amazing life-long connections and to grow immensely as a person while also playing the sport I love."
Amber Reinert '22, Psychology
"The Honors Program gave me the opportunity to participate in a variety of experiences I would not have had otherwise. Through volunteering at a local food pantry I rediscovered my passion for serving others. Presenting at a regional conference gave me priceless experience and the confidence to share my research with others. At a time when I was trying to learn more about myself, the Honors Program provided valuable lessons."
Conner Harvey '22, BS in Management
"If you are thinking about joining the Honors Program here at the Mount, do it! It has allowed me to surround myself with like-minded and success driven people who I otherwise would not have had the pleasure of meeting. The requirements at times are challenging, but anything worthwhile is. I encourage you to take on the challenge. Your post-grad self will thank you."
Dr. Gene Kritsky, Professor of Biology
"I have taught Honors classes and advised Honors students for nearly 20 years. My Honors courses are just as exciting for me as I hope they are for the students. These classes essentially become high-caliber learning communities that explore topics that have led to new research projects for my students. Honors students thrive in this environment. It builds on their talents, and it offers them expanded opportunities. I strongly believe that the Honors Program enriches an undergraduate's career."