Alumnus Garrett Bascom starts his own law firm—Bascom Law LLC.—to continue giving back through the justice system.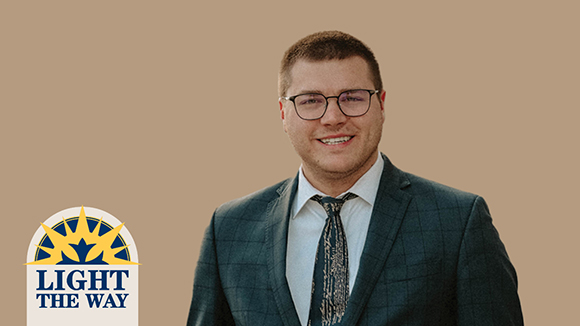 During his time at Mount St. Joseph University, Garrett Bascom involved himself in every way he could. Student Government Association, Campus Ambassadors, the list goes on. It's only fitting that Garrett added a minor in Leadership Development to his Communication & New Media Studies major—inspired by being a person who others could rely on to find proactive solutions.
After graduating in 2017 with his bachelor's degree, he became involved with the Alumni Association on campus.
"I have always been drawn to the mission of the Mount, and believe that as a graduate from this institution, I have a responsibility to advocate for change and stand up for what I believe is right," said Garrett.
Due to his involvement in the community during his time as a student, Garrett felt even more motivated to remain involved with his alma mater. "I feel like I was able to make positive changes at that time, and I like to stay involved to see how things grow."
 As his first step into the "real world," Garrett interned at the Dearborn-Ohio County prosecutor's office. It was this firsthand experience that helped earn him a full ride to the Indiana University McKinney School of Law, which has just under a 60% average acceptance rate.
 From a young age, Garrett has been interested in law. "I have been fortunate to have been involved in my field since I was in 8th grade going to Commissioners meetings," he explained.
 Merging onto the Highway of Law
As he continued his higher education at Indiana University, Garrett worked as the special assistant to Curtis Hill, the now former Attorney General of Indiana. Here, he was able to influence and discuss statewide policies with key members of Indiana government.
 "My time in the Attorney General's office has helped give me a different perspective on the implications of local actions at the state level, and especially state and national action on the local level," said Garrett.
 After a number of years in this role, Garrett moved on and became a Deputy Prosecutor for the Dearborn-Ohio County prosecutor's office.
 "As a Deputy Prosecutor, I always worked to ensure that I was seeking a just result to ensure the safety of the community and try to ensure that whatever problem had occurred was not likely to happen again," Garrett said. "I find that it is important to approach the situation with an eye towards compassion and fairness to ensure that justice is done."
As any individual involved in law should, Garrett takes on all of his cases with the mindset of pursuing true justice. In the court, he speaks for people who need help earning their freedom—no matter the severity of their case.
 From here, Garrett continues to lift people up in the court with his new firm: Bascom Law LLC.
 The Beginning of His Legacy
 While Garrett is more than grateful for his time as a Deputy Prosecutor, he also knew he could do more.
 "At a certain point, I realized that it was also important to see the other side [of law practice] and I thought I could help work with clients one on one as a defense attorney and an attorney in private practice."
 As the owner of Bascom Law LLC, Garrett deals with many different kinds of cases.
 "I handle criminal law, family law, and other litigation cases," he explained. "I also represent my high school, South Dearborn, as their attorney."
On July 17, 2023, Garrett expanded his solo practice to include a partner: Jefferson Kisor—thus changing the name to Bascom & Kisor LLC. "I got to know Jefferson during my time in the Dearborn-Ohio Country prosecutors office where we were both deputy prosecutors," said Garrett.
 As a result of the expansion, Bascom & Kisor will be able to provide legal services in both Indiana and Ohio—essentially doubling the amount of people they are able to help through the justice system.
 "We are very excited about the opportunity, and we hope to be able to use our experience as former prosecutors to represent our clients."
 Additionally in his practice, Garrett places a large emphasis on mental health, and how important it can be in the practice of law. "My mother has struggled with mental health since I was a child, and I continue to advocate for substantive changes to help those with mental health," he explains. "I also want to show compassion in the individual cases that I am involved with to ensure they get the help that they need."
For Garrett, the number of people he considers to be mentors is too many to count.
"I truly consider each of my professors, administrators, bosses, and members of the community who took the time to talk to me and answer my questions and who were a bridge to introduce me to the next opportunity were all great mentors to me. I believe that I am able to make positive contributions to the world and I feel that it is important to step up when you feel called," said Garrett.
"Some people have seen me in my early career that thought that I was too young to do certain things, but I feel that I have been able to bring a unique perspective to many opportunities despite my age."
---
Our Communications & New Media Studies major offers a vast range of courses and opportunities—all aiding in gaining experience in speaking, writing, and collaborating to prepare them for success in careers, communities and personal lives.
To learn more, please visit our department page here