After graduating from Mount St. Joseph University, Jessee Huber took her passion for helping others and made a career out of it at Findlay Market—an iconic Cincinnati brand.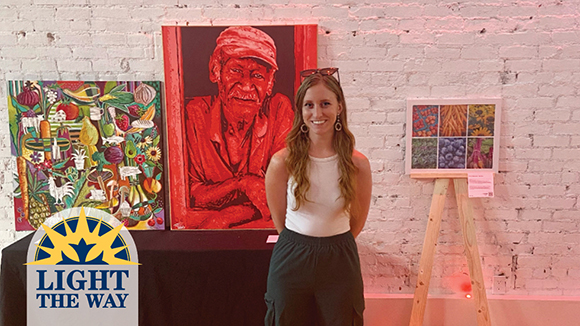 Since its founding in 1920, Mount St. Joseph University has welcomed countless students who have gone on to do remarkable things after graduation. From award-winning doctors to Grammy-nominated artists, the Mount is always amazed and impressed by its students, past and present.
In 2020, Jessee Huber graduated from the Mount with a Bachelor's degree in Communication & New Media Studies and a minor in Sociology. Fittingly, the experience in these two fields would end up thoroughly benefitting her down the road in her various co-op experiences.
Throughout her undergrad, Jessee completed not one, not two, but three different co-ops through the Mount. "Many students cannot afford to work and intern for free, so I took full advantage of what the Mount was able to offer to help me grow professionally," said Jessee.
Each of these involved helping the local Cincinnati community, starting with "ProKids" in 2018, a charity organization in Walnut Hills.
"I felt so passionate about the mission, and that my work with their fundraising events was able to contribute to their mission of advocating for the thousands of children in foster care in Hamilton County," Jessee reflected.
After this, Jessee would go on to work with "People Working Cooperatively" and The Summit Country Day School, using her communication skills in both roles to help others.
"Once I started [working with nonprofits], I naturally gravitated toward roles in nonprofits where their mission aligns with doing good in the community."
It was thanks to all the positive experiences she gained throughout her college career that helped her land her current job: Fundraising Coordinator at the Corporation for Findlay Market.
Good Eats—and Good People
"An important part of my role as the Fundraising Coordinator is spreading awareness that the historic Findlay Market is run day to day by our nonprofit organization," Jessee laughs, "as this is not a well-known fact for even Cincinnati locals!"
Findlay Market has remained in the same location since 1855—serving Cincinnati locals for years. The market houses fresh produce, rare ingredients, homemade trinkets, as well as local restaurants.  It also holds several events a year to bring the community together.
One of these events is the Flavor of Findlay, which Jessee plans and manages.
"With this event, we are able to promote our local food businesses through 15 tasting stations, pairing market merchants with top local chefs to create a unique small dish using the merchant's products for one night only," she explains. "We spend around 9 months planning and preparing for this annual event and my first time executing was beautiful and successful."
Flavor of Findlay combines all the aspects that Cincinnati loves about the market into one, spectacular night. There's food, wine, games, raffles, and a silent auction. The event not only is a great time for the community, but also helps the market financially, raising the much-needed funds for all of their programs.
By combining so many different (and tasty) aspects of Findlay Market, Jessee helps bring the entire Cincinnati community together for one great night of food and fun.
Funding Creativity
Due to Jessee's efforts in raising funds, she is directly supporting the various small, local businesses that cross paths with Findlay Market. She also is able to fund the programs that Findlay Market creates to lift its customers and business owners to greater heights.
The Corporation for Findlay Market is the behind-the-scenes team that ensures the market functions from day to day. To do this, the corporation has established several niche programs, one of which is Findlay Launch. With a fully operational storefront, the Findlay Launch program is designed to provide entrepreneurs with the support they need to get their businesses up and running.
In September of 2021, a family originating from Argentina entered the program to lift off their business, The Empanada's Box.
The founder, Diego Nunez, moved to America in 2000, with a strong passion for food and spreading his culture to others. Twenty years later, he founded his business, specializing in gourmet empanadas with flavors from all around the world.
Through the Findlay Launch program, these up-and-coming restaurants are able to gain great exposure by being situated right across the street from the iconic market. Thanks to the relationships established during the residency period, business owners have a much better success rate when they open up their first official location.
"It's so rewarding to have a career where I can serve the community and market to help with the creation of a more diverse, dynamic, and inclusive entrepreneurial ecosystem that is truly representative of our changing community here in Cincinnati," Jessee graciously expressed.
The Empanada's Box was the first ever graduate of the program, and now have their own successful storefront in Covington, Kentucky—only ten minutes away from the market that kickstarted their success.
By raising funds for programs like Findlay Launch, Jessee is always incredibly motivated when she sees people thriving as a result of the market.
"Seeing the successful stories of our programs reminds me of the reason why I am there."
The Empanada's Box is just one of the many heartwarming stories that come from the Findlay Market. Without the funds obtained through Jessee's fundraising efforts, this iconic Cincinnati business would not exist as we know it.