Paul Garrett '17, '20 was pleasantly surprised by the pursuit of his career path, and his MSOL and MBA degrees only enhanced it that much more to continue delivering memorable experiences for his guests.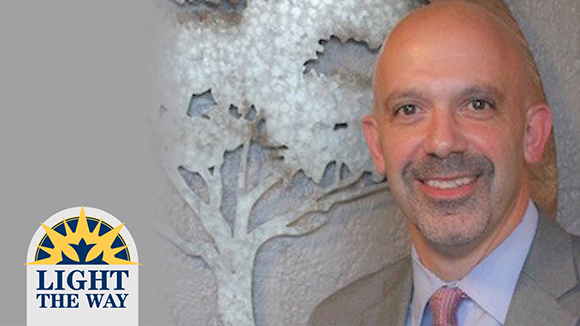 At the stoplight near the corner of Cleves Warsaw and Neeb Rd. in Cincinnati, Ohio, you'll pass an enclosed property quite elusive to onlookers. Nestled inside sits the Western Hills Country Club (WHCC) worn with tradition and classic charm; a home away from home for 500+ families whom partake in its excellent services and amenities—one of them being its 18-hole golf course.
For MSJ double-alum and newly-appointed Board of Trustees member Paul Garrett '17 '20, he compares his role as chief operating officer at the club to being the mayor of a very small town.
"There are committees for just about everything," Paul notes. "Golf, food, finance, entertainment, etc. Our customer is also technically the owner and therefore the boss. Visibility and accessibility are extremely important aspects of the job."
Paul was selected for the role in 2007 after serving as the Assistant GM at Kenwood Country Club for nearly five years, and he strives for hospitality excellence to create memorable experiences for guests. On a daily basis, Paul spends his time following up with club members through numerous emails and phone calls each day to meet demands, in addition to direct contact with members and staff of approximately 125 associates.
With such hands-on communication each day, the friendships and sense of family Paul has gained have been the best part about coming to work—although, he comments that his career pleasantly surprised him.
"I didn't even know what a country club was until I was in my mid-twenties, and if someone would have told me back then that this would be my career, I would have thought they were crazy," he chuckles. "Fast forward thirty or so years, and I feel like I am surrounded by friends and family every day at work."
Doubling-Down on Degrees that Challenge the Mind and Inspire the Soul
Nearly ten years into his role as chief operating officer, Paul gained hands-on leadership experience that he was looking to further challenge and enhance within hospitality management. With long hours and a busy schedule, he wanted a flexible program to formally expand upon his real-world experience. Shortly after his father passed away from Parkinson's disease, Paul pursued his graduate work at the Mount in 2015.
It was in his father's honor that Paul pursued a higher degree.
"My Dad was an English Professor at the University of Cincinnati for nearly forty years, and I always knew that he wanted me to do more with my education," he says. "For that reason, and many others, an advanced degree was always on my bucket list of things that I wanted to accomplish."
Paul enrolled in the Master of Science in Organizational Leadership (MSOL) program, a flexible weekend format offering that allowed Paul to attend classes while balancing an already very full work and family schedule. Once he completed the MSOL, Paul took time off for another year before enrolling in the Mount's MBA program, which he completed in 2020.
According to Paul, the personalized attention and small class sizes made all the difference.
"I know myself well enough to understand that I needed a traditional school experience, rather than an online program that would be far too easy to walk away from," he asserts. "The small class sizes and tight-knit student cohort was exactly the glue I needed to stay committed to the programs."
Enhancing Leadership to Serve the Common Good
When reflecting on his MSOL and MBA graduate experiences, Paul learned a great deal from his expert professors and students within his cohort who challenged him to assess his strengths to serve the common good.
"Working through these two programs was both humbling and validating," he emphasizes. "It forced me to become more aware of my biases and weaknesses, while also confirming that my instincts are pretty good, and my default style of servant leadership is appropriate, especially in a hospitality environment."
Working full-time with a family and graduate work is certainly a lot to juggle, but working through the coursework and projects helped Paul manage his time better, requiring him to become even more organized within his work to help his organization flourish.
"Proving to myself that I could handle the workload improved my confidence. Learning to think more strategically has helped me to become a better leader as the club's business continues to grow."
An Investment in Teamwork
Ten years ago, the golf industry was experiencing declining demand, and golf courses and country clubs were closing left and right. Now, even after the pandemic, WHCC has bounced all the way back and currently has a full membership with a substantial waiting list.  
The most important aspect he says, is the organizational culture that his MSOL and MBA has helped him cultivate that much more.
"Over the fifteen years that I have been the manager at WHCC, we have made many physical improvements to the club's facilities, and I am proud of what we have accomplished," Paul excitedly notes. "But perhaps most importantly, we have also invested in our people and our organizational culture, and I am proud of the progress that we have made as an employer."
As for the vision for its future, WHCC looks to maintain its full level of membership while continuously improving its facilities, offerings, and amenities.
"Our goal is to maintain a resort-like atmosphere where members and their guests feel comfortable and secure, surrounded by a capable and caring staff who recognizes that they are appreciated and respected," he says.
Paul Garret has officially joined the MSJ Board of Trustees on July 1, 2023. On behalf of Mount St. Joseph University, we congratulate you, Paul!
______________________________________________________________________________________________________________________
Looking for Flexible Program Options? Serve Forward with the School of Business
Are you a working professional who is interested in developing your passion and expertise? At the graduate level, our MBA and MSOL programs offer market-relevant courses in business as well as interpersonal and leadership skills. We even offer flexible programs to fit your busy schedule. Visit our School of Business page to learn about our flexible offerings.