Aimee Cordrey gives back to Mount St. Joseph University by enabling a student scholarship opportunity.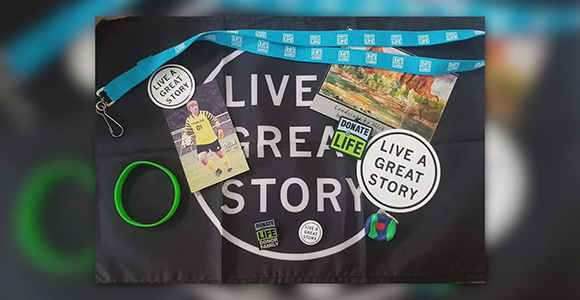 For Aimee Cordrey, '95, her fondest memories at Mount St. Joseph University include the importance of serving her community through various outreach opportunities. Now, through her foundation, she provides ample opportunity to give back—this time helping second-year MSJ student, Leah Hibbard.
"First and foremost, I want students to have access to the same quality education I had at the Mount. MSJ taught me to live a life that's focused on giving back," says Aimee.
Aimee is the Founding Director of the Nicholas R. Cordrey Foundation, a nonprofit-organization founded in honor of her son, Nick Cordrey. In the summer of 2020, her and her husband's son, Nick, died at the age of 15 from a brain aneurysm. As her family learned to integrate the loss of their son, they have sought ways to adapt to this new life.
One such way is through the Nicholas R Cordrey Foundation, in particular, the Nick Scholarship.
"Grief is powerful, it is your love in another form," Aimee asserts. "And as we learn to integrate the loss of our son, we seek ways to adapt to this new life. The secondary losses of attending Nick's graduation and watching him experience college are very real losses. We will never do these things. By creating a scholarship in his honor to be given to students bearing characteristics similar to Nick, we intend to live in a way that has meaning and purpose, and we integrate our grief into our new normal."
Even in his death, Nick helped others as an organ donor. "We've been told that our 15 year old son saved five lives with seven organs, and he impacted 40-50 individuals with tissue donations. Nick is a hero," Aimee profoundly expresses.
Majoring in Humanities at the Mount with declared minors in English and History before attending the University of Dayton School of Law ('98), Aimee's fondest memories at the Mount include the many community service and outreach opportunities she was able to experience. She spent four spring breaks serving others as well as helping locally throughout the academic year through campus ministry events. She also participated in the University's first-ever service learning course, integrating classroom knowledge with community service efforts.
"It was time well-spent that enabled me to not only help others, but to also grow personally. Each experience empowered me to use my abilities in unique ways, as well as develop new skills, and to also deepen my faith. For those experiences, I am a better person. I live a life in which I continually strive to give back in both work and play," she says.
Enabling an Opportunity for a Special Student
For MSJ sophomore Leah Hibbard, Nick attended her high school at Taylor in Cleves, Ohio and passed away the summer before Leah's senior year. When it came time to apply for scholarships, she heard about the NRCF Scholarship through her high school email and decided to apply. Leah was the first Nick Scholarship recipient in 2021, demonstrating good character through leadership, a concern for others, work ethic, athleticism, or excellence in visual or performing arts.
"When I found out that I was the first recipient of the Nicholas R. Cordrey Foundation Scholarship, I was very honored," says Leah. "Nick was an amazing person who had so much passion for everything he did. Being able to receive a scholarship that embodied what Nick stood for made me feel very proud."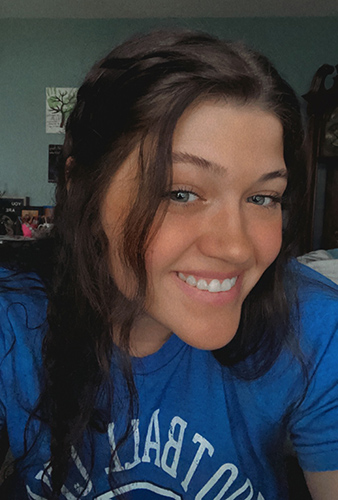 In photo: Leah Hibbard '25
In high school, Leah was an athlete, actress in performance art, and honor student who worked part time after school, while also volunteering in her community. The Foundation's Committee commented that Leah's essay was well-written and enabled them to peek into her passions and her potential as a difference maker in Early Childhood/Special Education.
"I was able to talk to Mr. and Mrs. Cordrey after receiving the scholarship and I was informed that my application was ranked highest for the whole selection committee. This was a big moment for me—I felt deeply touched that people saw qualities in me that Nick embodied. Nick's legacy has impacted me and changed the way I see the world, and I couldn't be more blessed to have received a scholarship in his dedication."
Leah exemplified every characteristic, rather than merely three of the five, as required to apply for the Nick Scholarship.
"She demonstrates effective leadership skills through a deep concern for others, strong academics, an impressive work ethic, four years of high school sports as well as four years of performance arts," says Aimee.
Today, Aimee serves on a local board for a behavioral health agency, and works in academic medicine. She enjoys volunteering her time with a variety of organizations, most recently due to Nick, Life Center Organ Donor Network. Overall, she expresses her gratitude towards the faculty, staff, and the Mount itself—and in her own words, have provided much more than she could ever give back (including the introduction to her spouse through another MSJ alum).
"This scholarship is one way my family and I will say thank you as well as our attempt to contribute to the greater good. Students may find it challenging to graduate without any loans. We hope they know that scholarships of any amount can add up to a significant total to decrease debt burden and they take advantage of such opportunities."
To learn more about Nick's cause, visit the thenickfoundation.org here, as well as lifepassiton.org.
______________________________________________________________________________
 Support Our Students to Reach New Heights
Looking for ways to support MSJ student success? Visit our Ways to Give page here to help provide students a quality education to pursue their passions, to reach New Heights personally and professionally.