Within the village of Minster, Ohio lies a rural heritage of faith, hard work ethic, and good fellowship.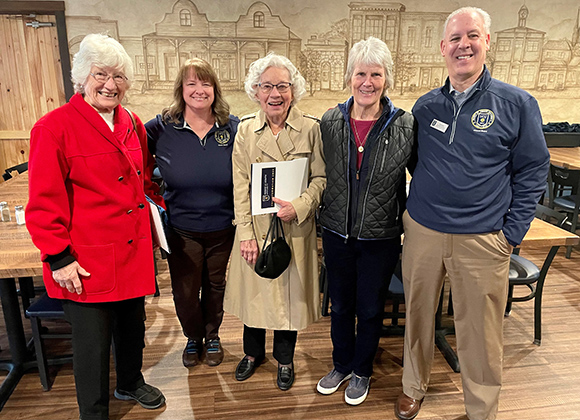 A hometown woven with strong Christian faith, Minster was home for MSJ '56 alumna Dr. Peggy Bensman who, after high school, ventured outside her birthplace bounds into a fresh start of enriching opportunity in Cincinnati, Ohio.
Peggy, a compassionate and dedicated student with a profound calling, followed in her sister Ilene's footsteps and was set to complete her college degree in nursing at a four-year institution: The College of Mount St. Joseph on the Ohio.
During the beginning of its era, [now] Mount St. Joseph University's nursing program traditionally offered two to three-year programs where graduates received a diploma, rather than a college degree. "The girls mostly went to diploma schools and if they wanted a degree, they had to go back and finish at a four-year college," Peggy emphasizes. She completed the next two years at Good Samaritan Hospital.
And, she cultivated a breadth of positive friendships at the Mount lasting well-beyond graduation along the way.
"My fondest memory [of the Mount], were the friends that I made there," Peggy reflects. "I made a lot of friends in nursing and we took a lot of trips together after graduation. The teachers that I had, both at the hospital and the Mount, were all very good. Priests also taught us at both places, too."

A Devoted Healthcare Calling
Peggy's ambitions and fortitude are exemplified through her willful perseverance to contribute positive impact across various healthcare programs.  
After finishing a required clinical residency, Peggy became a clinical instructor at Good Samaritan where she worked with students for four years. It was during this time she began to pursue her master's degree at Xavier.
Soon after, Peggy's career journey had only just begun. With her mission set and her vision clear, she joined St. Rita's nursing program in Lima, Ohio as Assistant Director of Nursing Education where she led the associate degree nursing program to prepare nurses for bedside nursing.
After affiliates turned St. Rita's over to a local board, it was time to further expand beyond her comfort zone. She later ventured to Toledo's campus with plans to develop a nursing program to make meaningful impact. She began as the first chair of the Owens Nursing Department, and was involved in developing the Dental Hygiene and Health Technology program.
"I applied for chairman of the program at Toledo. I hated to leave St. Rita's, but they were closing, and I was glad I did go there as it was the first associate degree program in Northwest Ohio. I met with a lot of community groups and I really enjoyed it. I had to make a decision, stay in Lima or Toledo—and I decided Toledo."
Peggy completed her master's degree at Xavier, and began her Ph.D. at Bowling Green University where she earned her doctoral degree in nursing during her role as chair. Later, she became Dean of Health Technology, and Vice President of Academic Affairs at Toledo.
Creating Meaningful Memories
Among her educational accomplishments and program implementation, traveling was certainly next on Peggy's to-do list after she retired. She went to volunteer at the Dominican Republic for six years assisting surgery patients at an underprivileged hospital.
"After I retired, I hadn't been in clinical nursing and so I went to volunteer at the Dominican Republic for five or six years doing surgeries, and I worked at the recovery room there from as long as 8 a.m. until 8 p.m.," she recalls.
As far as Peggy's work at the Mount, the University called her home in a myriad of ways, and she took part in several events after graduating. "I was always a member of the Alumni Board while I lived in Cincinnati, and I went to the 50th Reunion and 55th Royal Mountee Reunion. I was a representative of the class of 1956," she recounts.
The Alumni Board wanted to host an event one Saturday, but Peggy's friends had other plans to accommodate the graduating class who were long distance. "I said, Jade is having the nurses over, and the committee said, 'oh you nurses always have to stick together,'" she chuckles. "Good turnout. Some came from South Carolina. We had our own little gathering."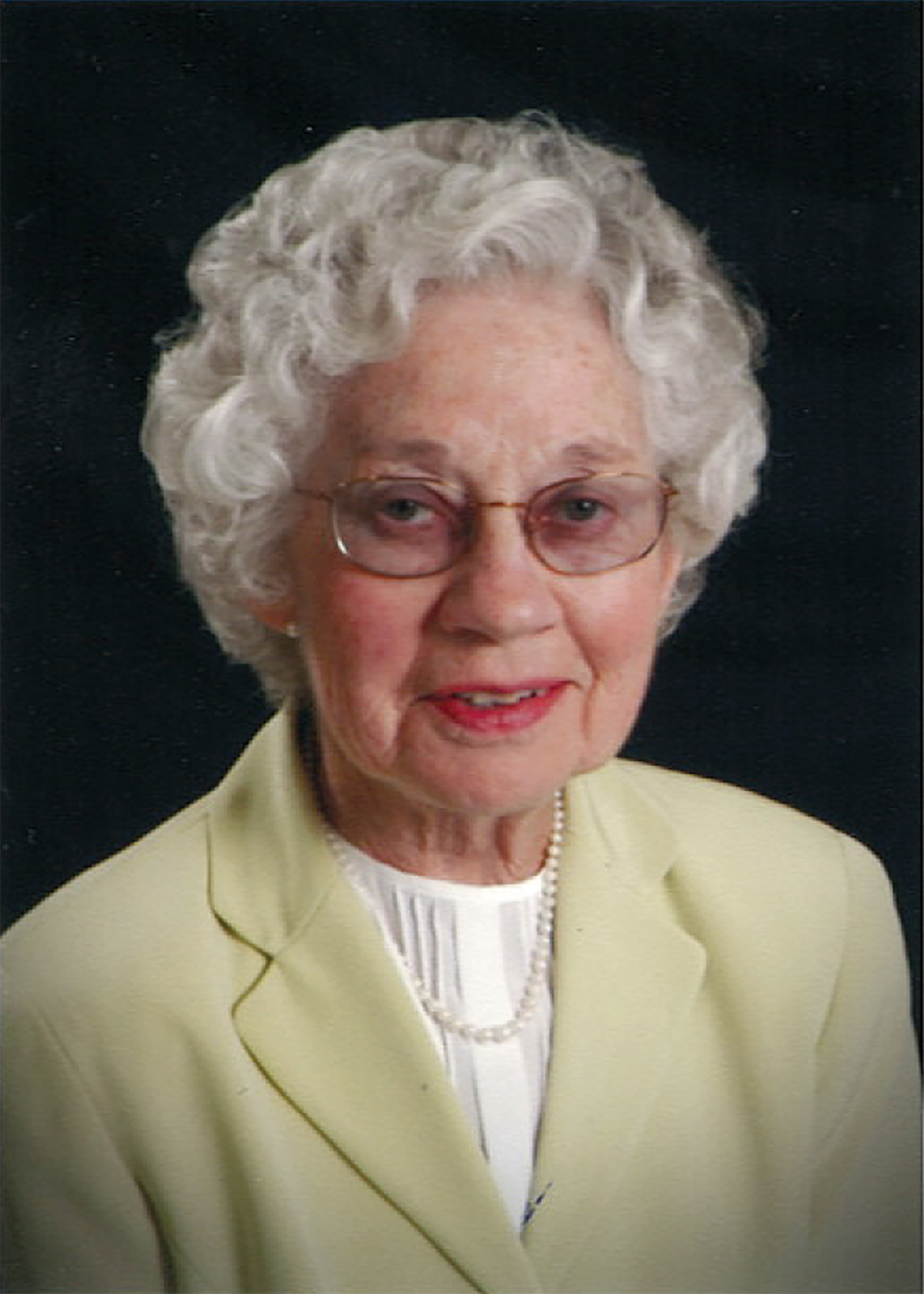 Supporting a Future of Young Minds and Hearts
Peggy continues to attend mass in her hometown church, St. Augusta Parish, and she reflects on her family's generosity that was instilled in her at a young age. She decided it was time for her to give back to her alma mater, Mount St. Joseph University, where it all began. "When they turned co-ed, I think it was a wise decision. I hope that the Mount continues [to thrive]."
Peggy is grateful for her excellent education with an emphasis on Catholic teachings from the Mount that positioned her with immense opportunities. It is her hope through her philanthropic efforts that the Mount can continue for many years to come.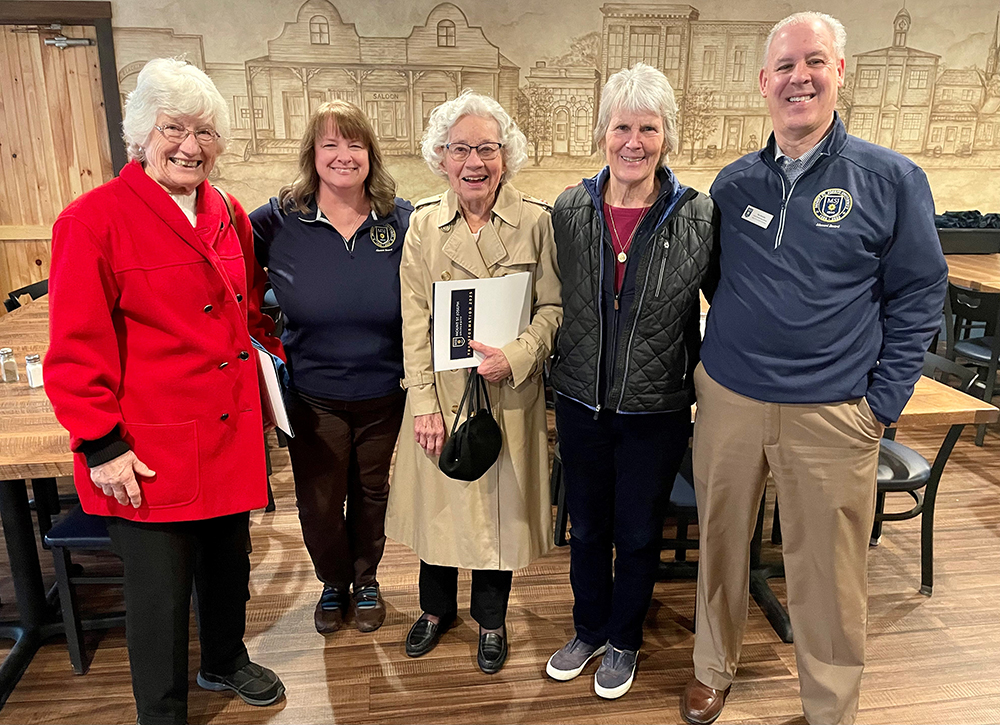 Peggy was the recipient of the Voices of Giving Award of Greater Cincinnati Planned Giving Council that she received on June 22, 2023.
Congratulations, Peggy!