By: Rev. Dr. John Amankwah, Ph.D.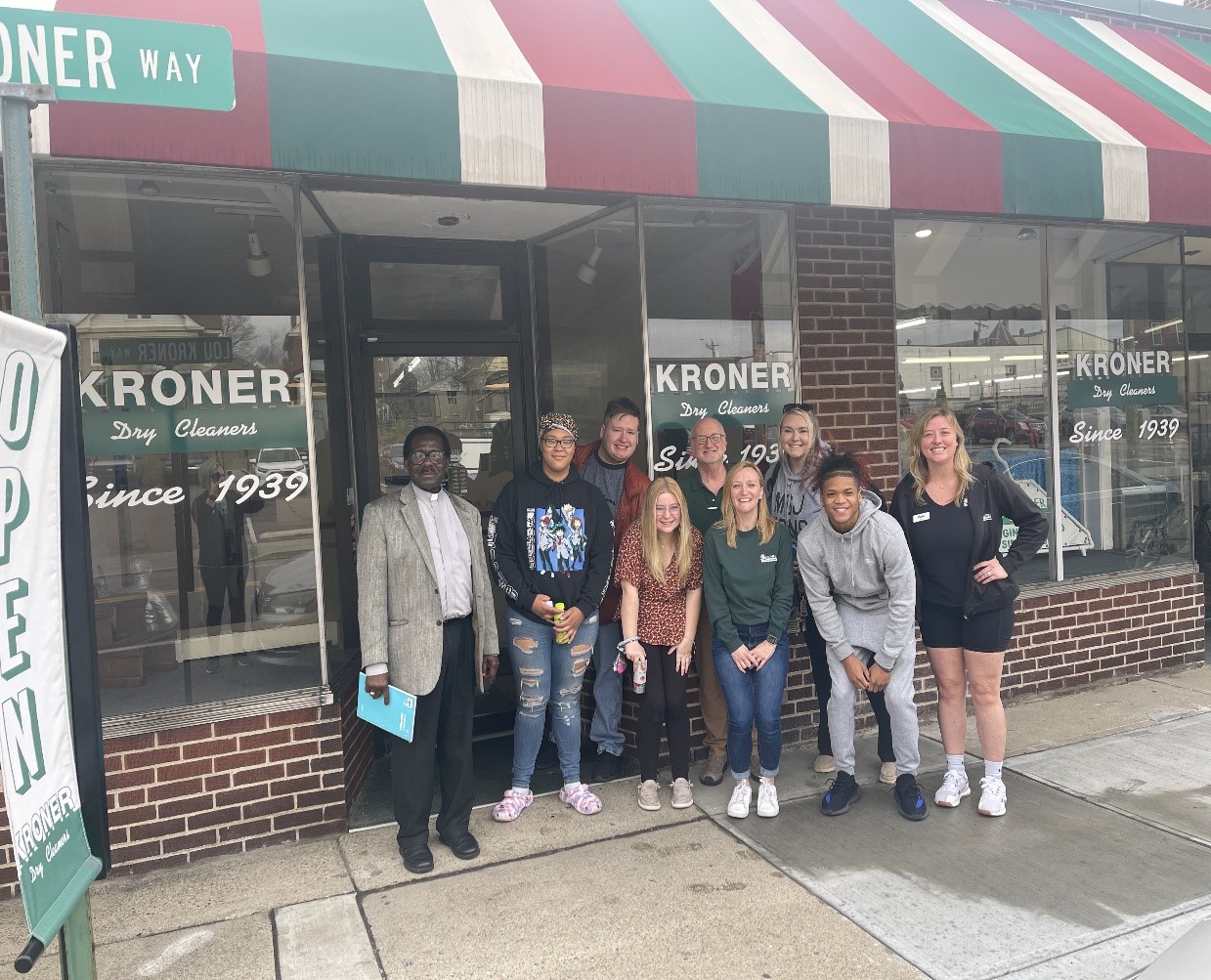 This spring, the Public Relations (PR) '23 class at Mount St. Joseph University undertook a project with Kroner Dry Cleaners, a small local Dry Clean business located in Cheviot, Cincinnati, Ohio.
The Marketing Advocacy Project fulfilled class requirements for Communication & New Media Studies students as they learned about the public relations landscape while collaborating with and supporting a small local business within a competitive marketplace to gain real-world experience 
The MSJ PR students began the project by visiting Kroner Dry Cleaners with their professor, Associate Professor of Communication and New Media Studies, Rev. Dr. John Amankwah to interact with the employees and the owner, Mr. Ray C. Kroners.
"I liked the students coming here with their professor, Rev. Dr. John Amankwah, and interacting with my employees and seeing how the cleaning process works," said Kroner.
From here, the students took this experience into the classroom, where they developed marketing advocacy questionnaires for the employees and customers as a hands-on experience in undertaking public relations.
The class conducted a survey by sending questionnaires to Kroner Dry Cleaners' employees and customers to test and determine how long employees have worked at Kroner Dry Cleaners, the level of satisfaction of both employees and customers with the work at Kroner Dry Cleaners, and the atmosphere at the workplace, the relationship with customers, and the attention Kroner Dry Cleaners pay to the environment.
Project Outcomes
The outcome of the survey report indicated that 92% of customers expressed their satisfaction with the quality of service they receive from Kroner Dry Cleaners. Additionally, 66% of customers have remained with Kroner for a long period of time, and 50% deem Kroner as environmentally friendly. Furthermore, 66% of the customers prefer Kroner to other cleaners because Kroner Dry Cleaners pick up laundry to clean and deliver to customers. Overall, both customers and employees expressed greater satisfaction with Kroner Dry Cleaners because of the familial environment, quality of service, and environmentally friendly attitude. Employees expressed high morale in working for Kroner Dry Cleaners because of the cordial and family-oriented atmosphere at the workplace.
As a small business within a competitive environment here in Cheviot, Kroner Dry Cleaners strives to excel in its business practices, especially in caring for its employees and customers.
"I want the best for my customers," Kroner asserts to the PR class. "I want nothing but to fulfill the needs of my employees and customers, and to satisfy our customers to the max. As a small business owner, it's our goal to create an atmosphere of, not only, great customer service but also service to the community."
About Kroner Dry Cleaners
Kroner Dry Cleaners is known in the Cincinnati area as a quality place to bring one's laundry. They clean not only everyday wardrobe but also wedding and academic gowns, as well as perform all sorts of alterations.
As a small business within a competitive environment, Kroner Dry Cleaners survived the Covid-19 impact on businesses in the marketplace. Previously, Kroner employed a student worker from Mount St. Joseph University during the period of Covid-19.
Kroner Dry Cleaners has been involved in the community in the Westside since its inception in 1939 and over the years has also been offering scholarships to children who excel in their academic performance. In association with the Cheviot Business Alliance, Kroner chairs the Outstanding Young Citizens banquet, which started in 1964. And, they have hired many high school and college students. Further, they offer job opportunities to students during summer vacation periods. All these are done by Kroner Dry Cleaners to give back to the community in which it operates.
In this historical moment, Kroner Dry Cleaners is ready to assist the growth of Cheviot and Cincinnati and to invest in the younger population in order to give them a chance to develop their full potential.
Kroner Dry Cleaners salutes the PR class of Spring 2023 for undertaking the project to promote it as a friendly small business that seeks to lift Cheviot up and help younger students to pursue their dreams. Public Relations Class of Spring 2023, kudos to you!