Mount St. Joseph University has been recognized for its support of students with military backgrounds by being designated as a Collegiate Purple Star campus by the Ohio Department of Higher Education (ODHE).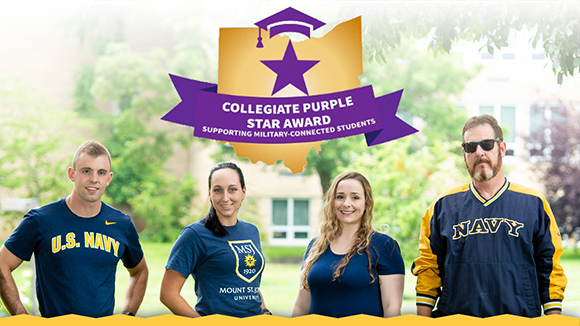 CINCINNATI, Oh. – "With May being Military Appreciation Month, it's an appropriate time to honor our military for all they do and to recognize the colleges and universities that support military-connected students and families," said ODHE Chancellor Randy Gardner.
The Mount is among a group of 46 Collegiate Purple Star campuses that have earned the designation since 2022. Ohio was the first state in the nation to offer these designations, which advance the work already done by Ohio's PreK-12 school system to create the Purple Star designation for those schools that worked to become military friendly.
"Mount St. Joseph University is a strong advocate for the military veteran community and their families," said University President H James Williams, Ph.D. "We are pleased to receive the illustrious Collegiate Purple Star designation from Chancellor Gardner, and the Ohio Department of Higher Education. This recognition emphasizes our commitment to serve and support students with military backgrounds."
"I am pleased that even more of Ohio's colleges and universities are rolling out the 'welcome mat' on their campuses for our military and veteran families," said Ohio Governor Mike DeWine. "This designation assures service members, veterans, and other military-connected students are able to access the resources and support systems they need to pursue their educational goals."
Criteria for being chosen as a Purple Star college or university include having a dedicated military/veteran point of contact and/or office on campus, establishing priority registration for veterans and servicemembers, surveying student veterans and servicemembers – along with spouses and dependents – about needs and challenges, and allowing for the establishment of student-led groups and organizations for veterans and servicemembers. Colleges and universities that earn the Collegiate Purple Star designation will receive permission from the advisory committee to utilize a logo or badge signifying the designation.
Colleges and universities in Ohio are offered the opportunity to apply for the Collegiate Purple Star designation. The designations are determined by a Collegiate Purple Star Advisory Committee appointed by the Chancellor and composed of members from organizations that include but aren't limited to ODHE, the Ohio Veterans Education Council (with representation from two-year colleges, four-year universities, and independent institutions), the Ohio Department of Veterans Services, the Ohio Adjutant General's Department, and the Military Interstate Children's Compact Commission K-12 Purple Star Committee.
About the Mount
As a Catholic institution rooted in the values of the Sisters of Charity, Mount St. Joseph University excels at serving the common good. Undergraduate, graduate, and doctoral students at the Mount are inspired to think beyond the classroom and redraw the bounds of what's possible for their futures. This is accomplished through individualized educational experiences, a safe, secure campus environment, and an all-in commitment from faculty and staff to inspire students to reach their highest potential. The Mount fosters life-long learners who serve, care, and contribute to the world beyond their front doors.


###