Cierra Townsend '23 reveals that she has the Heart of a Lion as she continues to heal from unimaginable heartbreak and finds solace in the Social Work department.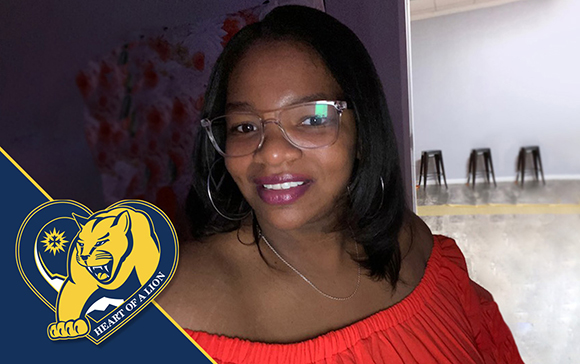 Cierra Townsend began her journey at Cincinnati State. First majoring in Education, Cierra was encouraged by a professor to switch to Social Work so as to broaden her opportunities. Her previous major, she was informed, would have limited her to a very specific area.
"[There's] so much I can do with social work versus being a school teacher," Cierra says, "so I took a leap of faith and never looked back."
During this time, Cierra began working at Cincinnati Children's Hospital where she registers patients at the front desk of the Neurology and Neurosurgery Clinic. When she graduated from Cincinnati State in 2017, however, she needed to stay local to maintain a short commute to work. That's when she found out about the Mount. Through her own research, she learned about the social work program that the Mount offers and began taking classes in 2019.
In the midst of this transition, however, Cierra's daughter was born. But even after such a life-defining event, she continued on in her pursuit of higher education and a career in social work—an occupation that possesses values deeply important to her.
"I [chose] to enter into social work because I have always worked in a place where I had a lot of interaction with all kinds of people. I knew I wanted to help people any way I could; it didn't matter what I did I just knew I needed to help in any way that I could."
During her time at the Mount, Cierra was exposed to a rich diversity and multiculturalism that materialized as she interacted with more social circles. With a plethora of campus activities keeping students engaged on campus, Cierra took advantage of the opportunities that presented themselves to get further involved in campus happenings and make more connections with her peers. As a sophomore, Cierra did just that when she joined Phi Alpha, the national social work honor society, where she met other students within the same major.
This experience, however, was cut short by the COVID-19 pandemic. But the calamity did not end there for Cierra.
Around this time, the father of her daughter passed away, and Cierra was bereaved of that indispensable cornerstone that is so fundamental to people's lives. She, however, saw light at the end of the tunnel while at the Mount, even within such world-shattering tragedies—both the physical world and her own. Cierra was not bereft of guidance, though.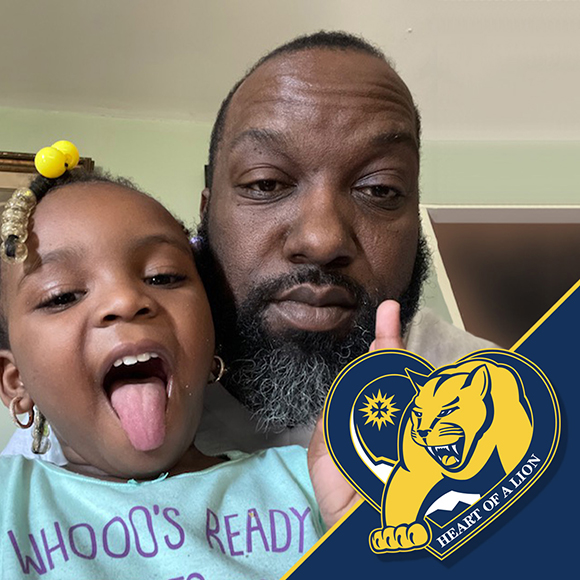 In Photo: Cierra's daughter with her father

"The Mount is helping me attain my goals by being supportive [and showing empathy, compassion, and understanding]. The staff in the social work department has pushed me to stay focused and not give up just because I was going through a hard time when my [daughter's] dad passed away."
Dr. Richard Simon, for one, extended deadlines for Cierra during this time so that she could deal with such hardship without falling behind academically. Dr. Jennifer Withrow, likewise, supervised Cierra's daughter at the Mount when there was no sitter available to watch her at home. Professor Angela Knighten even allowed Cierra's daughter to sit in class with her. Roxana Holland, the Director of Field Education in the Social Work department, served as one of Cierra's most influential supporters during this time when she encouraged her student to grieve healthily, refrain from suppressing emotions, and maintain proper self-care.
An "amazing support system" for Cierra, "the social work staff are amazing and are willing to make sure you succeed."
This consolation served as the catalyst for Cierra's reinvigoration, for which she had become a catalyst herself. After being asked by a few of her peers if Phi Alpha would be revived for their senior year, Cierra took it upon herself to reach out to Dr. Withrow about it.
"She said she had a lot going on," Cierra recalls, "and wasn't sure if it was going to happen, so I suggested that I can pick it up and take over to help her out…she said that would be great and that's how I become president because I was the only who has ever been a part of Phi Alpha and knew what the expectations were of the organization."
Singlehandedly prompting the revitalization of Phi Alpha, and becoming its president, Cierra is meeting new people again and rebuilding a rapport with her peers. She continues in her attempts to get the Mount's chapter of the organization fully functioning again, and she is succeeding. As volunteers accumulate, Phi Alpha completes charity work for the Mount, local churches, and other nonprofits—all under Cierra's leadership. She plans to spread the word about the organization to get more members of the Mount community to join and volunteer.
Despite the devastation that she experienced, Cierra triumphed, roaring back into liveliness and buoyancy, and breathing life back into things once forgotten. And she does each of these things—refined by pain and emboldened by her brave daughter—with heart.
______________________________________________________________________________

About our Social Work Program

While sociology majors study to understand how human beings relate to each other, social work majors focus on changing and improving lives, working to empower people to achieve their full potential. 
The Department of Sociology and Social Work offers majors in Social Work and Behavioral Science and minors in nonprofit leadership, gerontology, addictions, social work, leadership & civic engagement, socio-psychology, and sociology. In 2021, this program had a 100% social work licensure pass rate and has been accredited since 1991. 
Interested in learning more? Check out our Social Work program page here!