When things felt uncertain in his life while obtaining his MSJ degree, MSJ junior Shawn Carter found purpose through the unending support of his close peers.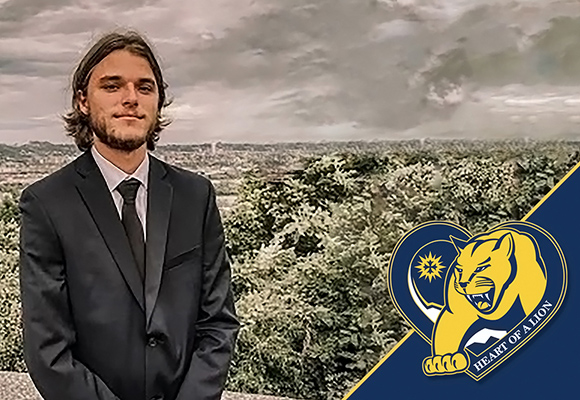 They say success looks different for everyone, and measuring success means defining it in one's own terms. For Shawn Carter now heading into his junior year, "reaching success" was being able to pay his way through college all by himself, while delighting in his academic major.
But sometimes, the journey is uncertain at the beginning. His sophomore year, he decided it was time to switch majors to Psychology. "All I knew, was that I wanted a career path where I would work directly with the general population for [their betterment]," says Shawn.
As his college experience progresses, Shawn has begun to expect more from himself as he gears up to make his mark on the world in a short year and a half.
Nurturing the Circumstances to See the Light
After the transition to a new major, Shawn worked hard on adjusting to different course loads, but life also took an unexpected turn when a close family member fell into critical medical condition—severely impacting his grades.
"This caused me to take a step back and realize that anyone can change from healthy to sick very quickly, and it made me think differently," he reflects. "This caused me to become withdrawn, and to lose focus on academics as well. My grades started slipping when I wasn't focused and on track."
Consequently, Shawn found himself talking amongst his close friends about different aspects of his situation. His support network surrounded him with affirming life advice, uplifted his spirits, and built his confidence in the face of hardship. They helped him see his potential, when he could not.
"As each [friend] gave me ideas of how to work through each situation, I slowly start getting back into the rhythm that I had lost. Having them to rely on, pushing me back up to where I was, has caused me to find myself in a better position than I started before it all fell apart."
Believe in Your Infinite Potential
Once his mindset changed, everything on the outside started changing along with it, and all it took was surrounding himself with the right people.
Shawn remains grateful to his friends for changing his mind set for the better, to help him overcome this situation with the Heart of a Lion—he spent less time in solitude, his grades started to improve, and he landed a co-op position at UC Health.
"Due to a close person in and out of the hospital, I wanted a job of importance to change people's lives for the better. This led me to my co-op providing fresh produce to lower income areas."
Shawn is excited to take on his junior year with determination. While he's thankful to have had friends to help regain his rhythm, he now views challenges as an opportunity to make him stronger.
"My advice for students facing some of the same challenges is instead of facing it as a difficulty, face it as an opportunity to make you stronger. Letting it get to you and getting you down is natural, but will have a lasting effect. [You will impress yourself by] working through it and making yourself stronger, viewing everything with a much more confident view."
­­­­­­__________________________________________________________________________________________________
Psychology Program: Learn More
Are you interested in understanding people's behavior and mental processes? Psychology may be a strong career choice for you! Bachelor's-degree careers of our graduates include mental health specialists, therapeutic service providers, HR, and more.
Plus, our general psychology major allows you to specialize in a specific area of psychology with our psychology advising tracks. A survey of our recent psychology graduates showed that 100% of them had either obtained full-time employment or were pursuing graduate study.  Visit the Mount's Psychology page here to check out these offerings!