On Dec. 10, 2022, Susan (Sue) Niemoeller walked across the MSJ stage to receive her degree with joy, honor, and delight after 35 years since attending the Mount.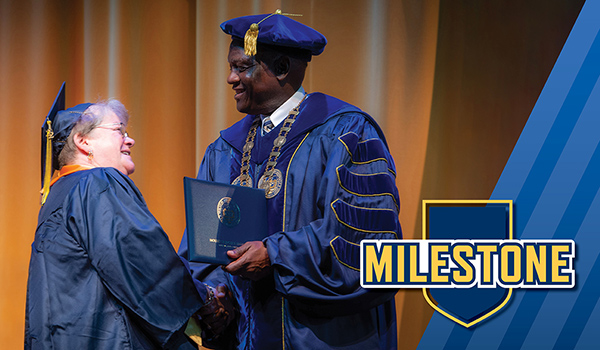 Attending the Mount for her Bachelors of Arts in Music Therapy from 1983-1987, Sue viewed music as a universal language that could reach deep within souls, a place where she notes, most people steadfastly guard. 
"Once given entrance, true communication—both expressive and receptive—takes place, then healing," says Sue. "Music is, among other aspects, a therapeutic tool.  I wanted to be involved in that process. I wanted to help."
At the time of Sue's attendance in 1983, the Music Department was extraordinarily small. Most music students' major instruments included flute, piano, or voice, with a few clarinets and one percussionist.  Sue was the only saxophone major, with limited resources to ensembles, or groups with which to perform.
Further, she had come from a high school with dwindling numbers of musicians.  As a result, Sue felt other Music major students at the Mount coming from larger high school music programs had a distinct head start.
"Classes were a bit of a struggle, but I powered through all four years and passed. I made life-long friends while at the Mount of which, most are attending my graduation.  I am thankful for them!"
Near the end of her college journey, Sue was unable to perform saxophone in her Senior Recital. She was told her skills were not good enough to participate in the recital, which was necessary to officially be granted her degree, in addition to another course she needed. As a result, she was compromised her degree, instilling doubts about her abilities.
But she was determined to live out her dream of serving others through music.
Appreciating the Rich Experience of Life
Moving to Idaho in 1987, Sue attended Idaho State University part-time as a Health Care Administration major. Then, in 1993, she moved to the Phoenix metropolitan area where she worked at an Alzheimer's unit as a Music Activities Coordinator.
"I began to see first-hand the therapeutics of all art forms.  Gardening, horticulture was so therapeutic to them, and me!  I entered Arizona State University. Horticultural Therapy seemed logical to me."
Thus, Sue graduated from Arizona State University in 2000 with a Bachelor's of Science in Plant Biology. She had finally completed her college journey, taking a break from playing music; however, her journey was not over yet. After passing a Maine State test, she became "grandfathered" in as a Social Work license due to her experience, studies, and degree. 
"I outlasted two heart attacks," she says. "I used everything I had learned/experienced to be a therapeutic foster parent to over 12 children over the years, adopting and raising two of them (now 19 and 21.)  I even coached middle school softball."
In 2000, Sue moved to Maine, taking a break from the music front. She rekindled her musical abilities fours years later as she joined The Alumni Band of Biddeford and Saco, Maine playing saxophone again with community bands, fighting the internalized message of being "not good enough." Here, she became the Vice President of The Alumni Band of Biddeford and Saco. She later joined the Maine Pops Concert Band as well.
"Like riding a bike, it came right back to me.  With practice, I improved and began to once again enjoy it," she reflects.
The Moment It Came Full-Circle
Sue made her visit back to Cincinnati last year, where she attended the Mount with a few fellow Mountees. Old feelings arose, and she needed closure. After speaking with her friend Terri, an MSJ '86 alumna and a few others, Sue drafted a hard copy letter to the University kindly and humbly asking for help in attaining her official MSJ degree. 
"Mary Mazuk, Director, Academic Advising Resource Center at Mount St. Joseph University requested all my transcripts and said my senior recital may be waived by the head of the Music Department if I could send in videos of my playing the saxophone. Mary worked seemingly tirelessly with me in this quest.  I felt she understood the importance of this closure as though it was her very own situation."
Soon enough, Sue opened the email from Mary to see that she was approved to receive her Bachelors of Arts in Music degree; a goal she had waited years to gain clarity on. No further credits/classes, or musical training/ recitals were needed.  "I did it!" she exclaims.
After she shared the exciting news with friends and family, the Director of Maine Pops Concert Band told Sue, "When you walk on that stage, walk very, very, very, very slowly ... for each of those 35 years!"
The next day, she received an email to order her cap and gown.
"Never give up! Every moment is a chance to step forward in some way," Sue asserts. "Always praise yourself for all the little, courageous steps you have taken to get to this moment, right now. Your past only frames your perspective but never defines who you are now."
A Thank You to Mount St. Joseph University
With a humble heart, Sue provides a generous thank you to those involved in granting her degree:
First and Foremost, God. Mary Mazuk, Director and PDSO for international students. Dr. H. James Williams, Ph.D., President. Janet Cox, Dean of Students. Belinda Murray, Music Therapy MSJ faculty '83-'87. Robert Gray, Counselor, MSJ '83-87. My greatest fan, nemesis, and hero Father Angelo della Picca, MSJ Music Faculty '83-'87. Terri Pensak Vollmer, MSJ Alumni '86.  Audrey Cabral, friend and co-band member.  Carol Lane. David Watts, Maine Pops Concert Band Director. All past and present conductors of The Alumni Band of Biddeford/Saco, Maine.  All band mates.  My family and friends.