The cITe program allows students to double major in their content area of interest, combined with a major in Social Computing.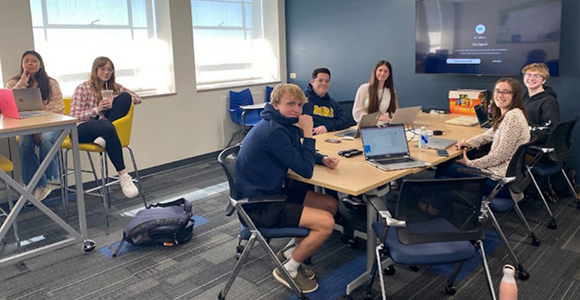 Mount St Joseph University's cITe (Center for IT Engagement) social computing students, along with Social Computing Professor Dr. Rebecca Allen, Ph.D. and Research Director Brook Batch, partnered with Laurea University in the Helsinki region of Finland to create an innovative chatbot app that helps newcomers to Finland find things they need in their daily lives.
P2P (peer-to-peer) is a special business and project management bachelor's program at Laurea University where companies assign students real-life business projects implemented by their students.  
The cITe program's students guided Laurea University's peer-to-peer (P2P) students to build the HelpMe app to create easier access to government services, transportation, housing, and more for newcomers in Helsinki. Both teams began the process by interviewing newcomers to Finland about their challenges arriving to the country to find solutions.
"The collaboration with cITe has been very productive and inspiring," says Siiri Tick, project manager of the development team. "The work has been done very smoothly and seamlessly, and I am glad that we had the help from the cITe team to build the application. They seemed to be very professional and informed in their actions, and they definitely enriched our project."   
According to Tero Uusitalo, senior lecturer and coach of the Laurea´s P2P team, collaboration on international projects will help students prepare for future positions in IT. The experience helped cITe students find ways to refine the platform.
"Gaining this cross-cultural insight was valuable for cITe's students," says Associate Provost for Campus Technology, Alex Nakonechnyi. "This partnership allowed the cITe program to roll out the platform we developed to help organizations deploy their own resource navigation chatbots; seeing other organizations use this chatbot platform helped cITe to further refine the platform."
______________________________________________________________________________
Interested in Combining Social Computing with a Major of your Choosing?
Our cITe Scholars Program may be a strong fit for you.
Students in cITe double major in their content area of interest combined with a major in Social Computing. This interdisciplinary curriculum works to connect students' interests to technology innovation. Students are also eligible to to apply to the cITe Scholarship up to $8,000 per year: the Choose Ohio First cITe Scholarship.
To learn more about cITe, visit our cITe Scholars page for program highlights.