The Ohio Art Education Association recognizes Sylvia Dick, recently retired Co-Director of Art Education at Mount St. Joseph University, as the 2022 recipient of the OAEA Higher Education Division Award.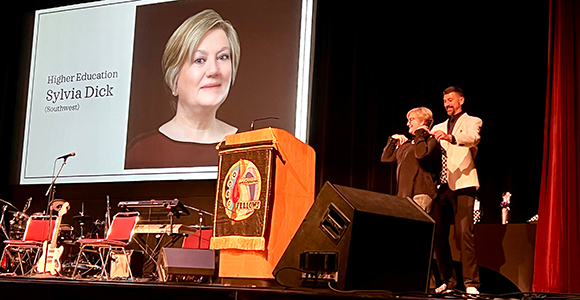 The Ohio Art Education Association (OAEA) is the leading professional membership organization exclusively for visual arts educators in Ohio. Members include elementary, middle, and high school visual arts educators; college and university professors; researchers and scholars; teaching artists; administrators and supervisors; and art museum educators. OAEA's mission is to build a community for visual art educators by promoting professional growth and leadership. 
Mrs. Dick has demonstrated a commitment to supporting the visual arts and has influenced your region of Ohio in a positive way for well over 30 years. In order to be a division award winner, these are just some of the following criteria:  
Active in OAEA within that division for a minimum of 3 years, spending at least 51% of their workday within the division for which they have been nominated. Nomination includes a nomination letter, two additional supporting letters, as well as a vote from the OAEA if more than one candidate is nominated.
Meet the needs and interests of students in a positive and/or creative manner, bringing about learning, growth and development in all areas, and the development of appropriate objectives.
Shows strong evidence of being professionally active, which may include publishing articles, and/or advocating for art education, and/or creating art, and/or exhibiting artwork in YPAE/YAM student shows, Regional Summer Shows, and individual exhibitions.
Division Awards are given at various 8 levels of art education: Elementary, Middle, Secondary, Pre-Service, Higher Education, Supervision, Policy, and Administration, and Emeritus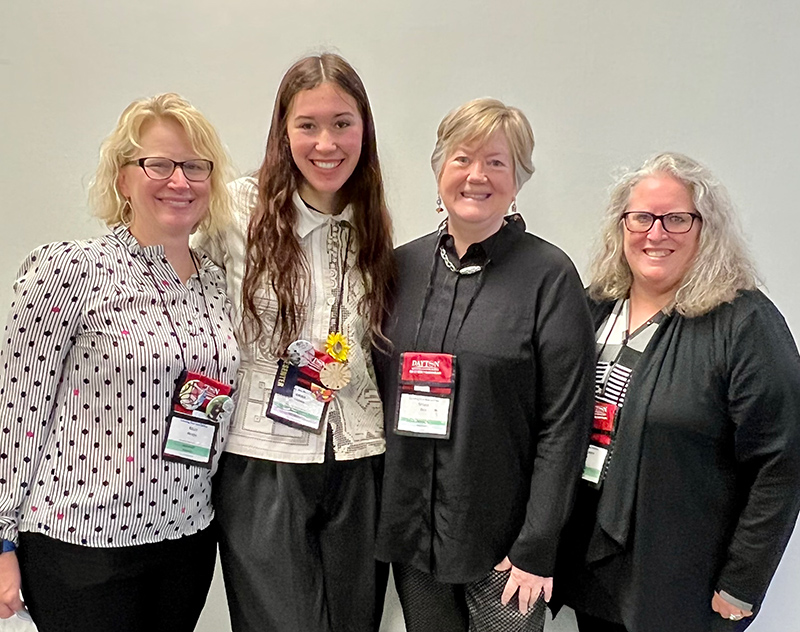 In their letter of support, Dr. Sharon Kesterson Bollen, Professor Emerita, of Mount St. Joseph University reflect on her accomplishments in the field. "For 30 years Sylvia Dick was regarded as an outstanding art educator in the Southwest region. She accumulated awards and recognition for her remarkable teaching skill in the elementary art classroom and for her legendary abilities in cultivating the best in student teachers from the Mount and U.C."
Mrs. Dick worked with the pre-service students at Mount St. Joseph University for fifteen years and was an advocate for elementary art education teaching and learning. She was the first one to help a student with lesson planning, study for an upcoming exam, or encourage them to become part of the Ohio Art Education Association.
She is truly an advocate for students, art education and OAEA. Congratulations to her for her many years of service and the award.
She will receive her official award at our OAEA State Conference "Creating Your Best DAYton" this coming Friday, November 11th, 2022, in Dayton, OH at the Dayton Convention Center Awards Ceremony!