Mount St. Joseph University proudly announces its October "Pride of the Lions": Congratulations MSJ Renaissance Team!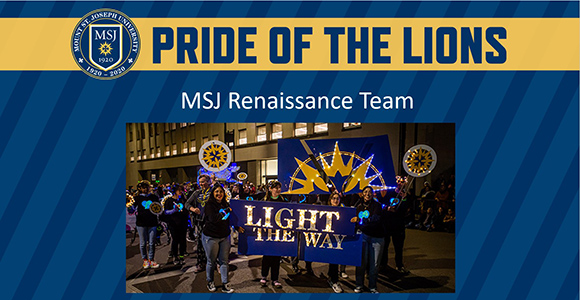 Bravo to the MSJ Renaissance Team, for their efforts leading and Lighting the Way with the MSJ Blink presence! BLINK is a festival of lights and art---Celebrating Cincinnati!
Click here to watch the WCPO footage of the Mount's entry, and visit here to watch our short promotional video.
Please join me in thanking the MSJ Renaissance Team for their efforts to make Blink happen for the Mount---from the parade application, to the Band and parade marchers, to the props and costume design, and to working the event for six hours; wow! They made a huge difference for the Mount!
Sincerely,
H. James Williams, Ph.D.
President