Have you ever wondered what is involved in restoring vintage cars?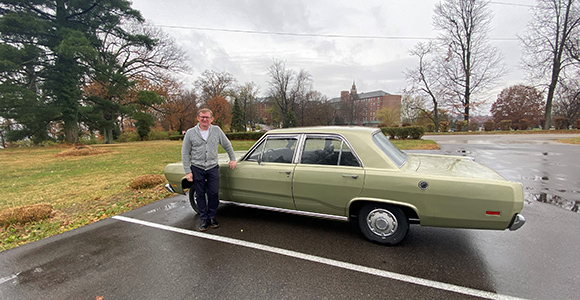 Jim Bodle, Ph.D. Professor of Psychology at Mount St. Joseph, has been doing it for years. Bodle comes from a long line of car aficionados.  His grandfather was a first-generation truck mechanic and passed his love of automobiles to his father who worked for the Chrysler Corporation. The fascination passed on to Bodle as a young boy. Older cars and their restoration have been his hobby ever since. 
You may have seen him driving his vintage cars on campus and wondered how he maintains them or where he stores them.  Bodle and his car-loving friends store their cars at a body shop in Kentucky. As he describes the scene at the body shop, it must be something to see…all the beautifully restored cars parked in a row at the body shop. This group of friends have a total of ten cars mostly from the 1960s. They have a 1969 Plymouth Valiant car, five Chevrolet Corvairs, and four other cars you're just going to have to ask him about.
Bodle is a part of multiple clubs, which include many of his close friends who are all passionate about vintage cars and restoring them to their original look. The main clubs that he belongs to are a local and a national Corvair club, a national station wagon club, and a Plymouth club. Bodle, along with the clubs he belongs to, not only host car shows but they go to car shows to show off their cars.
The most recent one that they made an appearance at was Rollin' On the River at Victory Park in Keokuk, Iowa. They have even won awards a few times. In 2021, they won a prize with their 1961 Chevrolet Lakewood station wagon. Their clubs collaborate with similar clubs in Ohio, such as those in Dayton, when hosting shows.
He explains that the cars are not strictly for show. They are in working condition and they actually have to be driven. If they sit for too long they stop working.
Safe driving is important to Bodle. He thinks that by working on and driving vintage cars, a person gets a better feel of how a car with not a lot of automatic features works.
He says, "Most of us drive cars with airbags, automatic breaks, and safety features. Old cars teach you how to have safety features of your own instead of relying on the car's safety features."
Feel free to drop Bodle an email if you have any questions related to cars or if you yourself want to get involved in car restoration.
Photo: Bodle and his restored 1969 Dodge Dart.