MSJ '08 Social Work graduate, Maria Eichhold Lights the Way by helping pregnant mothers find shelter, hope, and comfort as they journey through pregnancy.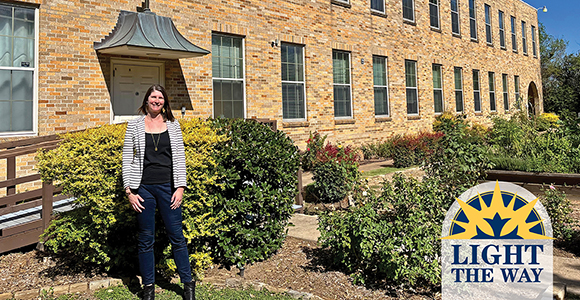 After MSJ alumna Maria received her master's degree in Social Work from Indiana University, she couldn't wait to participate in a year of service, specifically helping the homeless.
It all started when she learned about a program in Phoenix, Arizona that was providing housing to women who were pregnant, and immediately bridged her passion to help the homeless with her pro-life values. It was the perfect fit.
"During that time, I saw how transformative it was for moms to live in community with other moms and women," Maria reflects. "I saw how they were transformed from hopeless to hope-filled; how they converted from 'I can't do this' to embracing their motherhood. In the process, I was transformed as well, and more deeply recognized the importance of authentic friendships and sisterhood."
Finally, when a friend from this program inspired Maria and a few other friends to move to Dallas to start a new home for pregnant women experiencing homelessness, this same feeling of transformation immediately surfaced for her.
A Challenging Climb Leads to the Most Beautiful View
Soon enough, Maria quit her job, packed up her things, and moved to Dallas, Texas with no job lined up and uncertain of what the future held.
Thus, Maria found a position, but she tirelessly and passionately continued to work on the In My Shoes project on the side. After a lot of hard work and dedication, she quit this position in February of 2017 to become the Executive Director of In My Shoes, and opened its doors mid-September of that year.
Maria says the mission of In My Shoes is to provide a safe, welcoming community for women who are pregnant and homeless or at risk of homelessness. They accomplish this mission by providing housing for these moms. Simultaneously, and equally as important, the nonprofit provides a committed community for moms who feel very much alone and hopeless.
"Through our purpose to restore and prepare women to be who God created them to be, we offer programming that includes individual and group counseling, life skills classes, case management, and more," she states.
As for the final naming In My Shoes, what stuck with Maria and several others was the concept of walking side-by-side with women during the journey of their pregnancy. According to Maria, "we acknowledged that we will never know exactly what it's like to be in their shoes, but with entering into their lives and offering empathy, we can walk the journey with them."
Thus, the organization has celebrated many moms' sustained periods of sobriety, acquiring jobs, getting accepted into the school, obtaining a GED, paying off court fees and complying with or completing probation.
"We have housed 80 women since we opened our home, and those are 80 women who have continued to transform and inspire me. Now that I am a mom, as well, I recognize the sacrifice that these moms endure, the resilience they have, and the deep passion they possess to overcome barriers to being a good parent to their child. They inspire me daily."
Small Moments, Big Memories
Maria emphasizes it's not just her that helps a mom overcome her struggles and find hope – it's anyone who's ever been a part of the In My Shoes family.
Over the years, Maria and the staff have witnessed so many special moments – many of them small, such as a mother saying, "I've never had a 'real' Christmas until now," or a mother who gave Maria the privilege to be the first staff member to hold her baby.
While there are so many memories Maria holds dear to her, she reflects on the story of a recent mother who attended the home's five-year birthday party.
At the party, the woman spoke about how she had been struggling with addiction when she found out she was pregnant. After going through rehab, she found In My Shoes. While there, she continued to work on her recovery, had her baby, and worked on relationships within her own family. Once she left, due to a death in her family, she had unstable housing for a period of time. Maria and her staff worked with her to set her up with an apartment with reduced rent. The woman also found child care in that area, and a volunteer from In My Shoes connected her with a job.
She has maintained her sobriety, and has even regained rights with her older son. What stood out to Maria the most about her story was when she told Maria, "we used to get into petty arguments, us moms at the house. But now, we check on each other and make sure everyone's doing ok."
Heaven is a Place on Earth with You in My Heart
After a little over five years at the organization, Maria reflects on a special person in her life who has inspired her to Light the Way for others in order to create a safe, comfortable atmosphere alongside numerous women.
"My dad not only instilled many of my values that encouraged me to pursue this work, he also has always been my cheerleader, whether it was on the basketball court at MSJ or starting In My Shoes. I don't get to hear his words of encouragement in person any more, but I know he is cheering me on in heaven."
As for the future of the organization, In My Shoes recently completed a strategic plan that is going to help pave the way toward growth. Maria and her team plan to spend some time stabilizing its programming, optimizing their residential facility and staff, and setting the groundwork for growth.
"The need is great and continues to rise, and we want to ultimately serve as many women as possible," she asserts.
About our Flexible Social Work Program: Evening & Weekend Format Options
Mount St. Joseph University's Social Work program prepares flexible scheduling options in accelerated evening and weekend formats. We offer five minors in diverse areas, to supplement any major.
Climb Higher Series | Sociology, Social Work, and Behavioral Science: Hear directly from our faculty about course offerings, program-specific details, and co-op opportunities!