Mount St. Joseph University (MSJ) is launching a student-run clinic that will offer free physical therapy services to underserved and underinsured westside residents.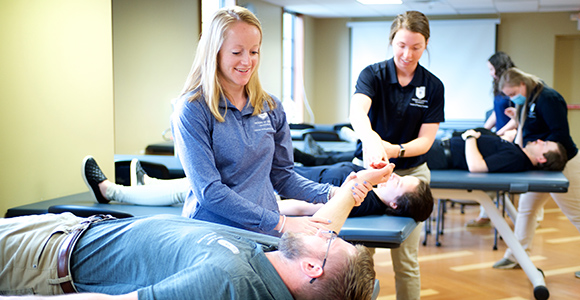 CINCINNATI, Oh. – The year-round clinic will be open fall, spring and summer semesters so that students in MSJ's Doctor of Physical Therapy (DPT) program can integrate their knowledge and clinical skills as they learn what provides a rich, integrated experience.
"Our mission centers around the education of our students and the health of our community," said Dr. Lisa Dehner, chair of the MSJ Physical Therapy program and a professor of Physical Therapy. "A student-run pro bono physical therapy clinic supports both of these core values in that it provides free services to the underinsured to improve their quality of life and gives our students a unique opportunity to learn about how a clinic is run."
The clinic at 672 Need Road will operate fall semester from Sept. 13 to Dec. 10 from 6-8 p.m. Tuesdays and 9-11 a.m. Saturdays.
 A volunteer board of second year DPT students oversee all aspects of the clinic with alumni and faculty guidance, providing the students a unique preparation in physical therapy administration and management.
All students in the DPT program will participate in the clinic, simulating a real-world experience prior to their terminal clinical education experiences in the third year of the program. The students will be supervised by licensed physical therapists from the community in a collaborative learning environment.
Pairs of students work together to examine, evaluate and treat a patient under the supervision of a licensed physical therapist from the community in a collaborative learning environment.
Patients will be referred to the clinic from multiple sources or self-refer. Students will follow their patient for four sessions over a five-week period so they are able to not only develop a plan of care but also adjust the plan based on the patient's response, Dr. Dehner said.
"Our primary goal is to serve community members whose insurance benefits lack sufficient coverage or those without the financial resources to cover co-payments," she said.
And even though the clinic is free, students will practice documentation and billing using the same electronic medical record system that are used by thousands of physical therapy clinics across the country.
About the Mount
As a Catholic institution rooted in the values of the Sisters of Charity, Mount St. Joseph University excels at serving the common good. Undergraduate, graduate, and doctoral students at the Mount are inspired to think beyond the classroom and redraw the bounds of what's possible for their futures. This is accomplished through individualized educational experiences, a safe, secure campus environment, and an all-in commitment from faculty and staff to inspire students to reach their highest potential. The Mount fosters life-long learners who serve, care, and contribute to the world beyond their front doors. To find out more, visit: www.msj.edu.

###