Vice President for Institutional Advancement at Mount St. Joseph University, Sydney Prochazka has been spotlighted as a higher education leader within the Greater Cincinnati Region.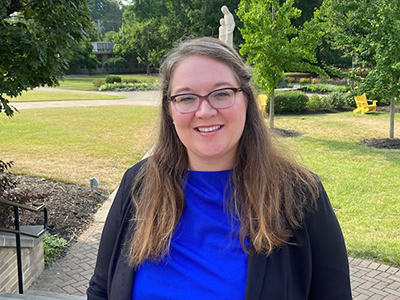 Movers & Makers is a nonprofit digital publication spotlighting catalysts for change, who are shaping the future within the Greater Cincinnati region.
This month, 25 higher education leaders were selected to be featured for making a difference in the lives of students and the institutions they attend. Represented among this list is the Mount's new Vice President for Institutional Advancement, Sydney Prochazka who brings a wealth of development experience to the institution to advance its goals.
According to the Movers & Makers article, Prochazka brings enthusiasm toward her volunteerism efforts and its influence on communities.
"The role marks a return to Cincinnati for the Xavier University graduate. Most recently, she served 4 years as a philanthropy adviser for the University of Saint Mary of the Lake/Mundelein Seminary near Chicago. Prochazka also previously supported Toledo's Little Sisters of the Poor as director of development. She is most proud of the way her career and volunteerism have influenced, and will continue to influence, 'family trees.'"
To read about other leaders within higher education, check out this digital publication: Movers & Makers Cincinnati: Notables - Leaders in Greater Cincinnati Higher Education.