Through the Master of Science in Nursing (MSN) program at Mount St. Joseph University, Becky Rengering advanced her knowledge and leadership to continue making a difference in the lives of transplant patients in her completely new role as clinical director of Transplant Services.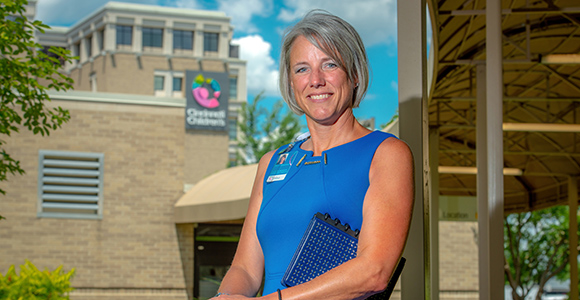 Becky Rengering, '19 MSN, RN, CPN, has spent 22 years of her career in Transplant Services at Cincinnati Children's Hospital Medical Center (CCHMC). She initially thrived at the bedside, providing direct care to complex transplant patients.
After 10 years of advancing her skills in providing transplant specific care to the liver and intestinal population, Becky led efforts across the different transplant programs to develop a unified job description for the transplant coordinator, which maximized the scope of nursing practice in the specialty of transplant nursing. She then went on to identify gaps in transplant leadership and partnered with a long-time friend and colleague to present a plan for both clinical and program leadership positions.  Both positions were approved by program and hospital leadership.
In the midst of this significant shift in her role, Becky decided her success was going to require mastering skills in leadership, coaching, and developing people and programs. She learned of the Mount's MSN Administrative Track Cohort at CCHMC and recognized that right in front of her, were opportunities she couldn't pass up. She also believes her transition into leadership was, in many ways, a true calling…a "now or never" moment.
"Before I began the MSN Program and moved into a leadership role, the concept of managing, leading, and influencing people scared me. One of my physician partners, who had worked with me for 15 years, helped me realize that I had been managing people throughout my career. The MSN Program was such an eye-opening experience. I absorbed everything and I was energized to be in such a dynamic and supportive learning environment. I saw the benefits of the program immediately, in my personal and professional communication skills, in my time management, and in my ability to delegate."
She also credits her long-time friend and CCHMC colleague for encouraging Becky to join her in the MSN Program. Besides being partners in formalizing the ideas that led to the changes in clinical leadership and program management in Transplant Services, they shared the journey toward advancing their degrees.
As clinical director of Transplant Services, Becky is accountable for the transplant coordinators in each of the five transplant programs. In addition to coaching and developing staff, she oversees the quality improvement and process improvement projects that impact experiences and outcomes.
Becky's determination and dedication to transplant patients is evident in her MSN Program capstone project, which has demonstrated amazing potential. As a strong team effort led by Becky, the work entailed trialing discharge planning tools with liver transplant patients as well as a retrospective analysis of 84 patients and 90 data markers; all with an aim to drop and ultimately predict length of stay. Besides ensuring this research impacts the lives of the transplant patients, Becky intends to have her team's work published.
In her role as a leader, Becky once worried that stepping away from the patient care side would diminish her value or her contributions to CCHMC's Transplant Services. Instead, she has discovered an incredible worth in watching a team grow, and in coaching others, so that they too, feel engaged, empowered, and valued.
"I've learned that leadership is 90 percent relationship management and 10 percent administrative. It's the symmetry of being a leader in any scenario, in terms of using a responsive approach versus a reactionary approach, and knowing the right questions to ask to reach what is most often a shared goal. I remember once watching a team member set off to take care of what I would have once done myself. Passing the torch is quite rewarding, and as my cohort friend has told me, 'I'm needed on a different level now'.  It's gratifying to see how I continue to grow."
About MSN at Mount St. Joseph University
This graduate degree program is dedicated to meeting your professional and career needs in a flexible, caring, educational environment with part-time options while you continue working. Check out the MSN page to view testimonials from other MSN graduates at the Mount!