Jetta McCart,`24 knows first-hand that moving to a completely new place can be difficult, inspiring her to become a Resident Assistant (RA) to assist MSJ students with their transition to living on campus.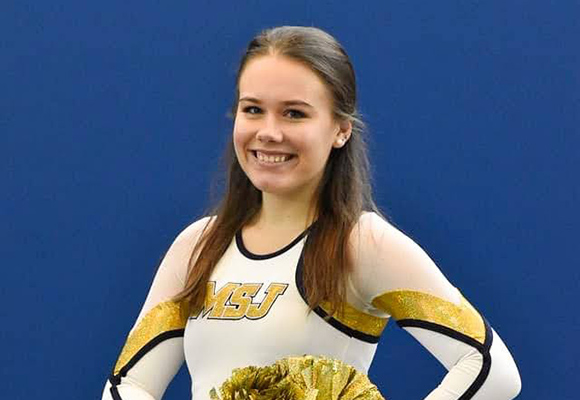 What is your year and major?
I am a third year/Junior here at the Mount with a Marketing major.
What inspired you to become an RA, and what are some of your important duties?
I was inspired to become an RA because I wanted to help out students on campus in a more active way. I know how hard it can be coming into college not knowing anyone or how anything works and I wanted to be a person that students could turn towards. Some of my important duties are building a community on my floor and making sure everyone feels safe and included.
Describe your RA experience at the Mount--When did you become one, and what has your experience been like so far?
I became an RA last year, so I am going into my second year of being an RA. I have loved every minute of being a Resident Assistant as I have gotten closer with the rest of the RA team and the residents on my floor.
What kinds of activities do you oversee, and what is one of your favorite memories?
I hold programs for my floor such as movie nights, a passive program called "The Race Card Project" where my residents were given cards where they could write a short statement about race, and other programs where my residents get to know each other and hang out. One of my favorite memories was when I held a trivia night and I had a lot of my residents attend as well as residents from other parts of the building and after the program ended, we all stayed for another two hours talking and enjoying each other.
What do you think are important benefits of living on campus, and what is unique about living on the Mount's campus?
As a student who lived at home and commuted my first year here at the Mount and jumped right into being an RA and living on campus, I've learned that you can get more out of your experience at the Mount if you live on campus. There are less worries about commuting, figuring out where to spend time between classes, and trying to make friends because you have access to all you need right on campus. However, no matter where you choose to live, you will get the most out of your college experience if you get involved - you get out what you put in. Living on the Mount's campus, you really are part of a close knit community that I don't believe you would get anywhere else.
For those at the Mount interested in becoming an RA, what skills do you need/what advice would you give?
Some important skills you have to have if you're interested in becoming an RA are patience and creativity as well as wanting to help out and make a difference in the lives of others.
Committed to a Supportive Living Community
At the Mount, we are committed to providing a safe, and engaging living community that is supportive of your academic success and well-being. Interested in living on campus to get the most out of your college experience? Visit our Ways to Get Involved page to learn more about connecting with students for your personal and academic growth.