Last Saturday, Anthony Muñoz, former NFL offensive tackle for the Cincinnati Bengals, addressed the graduate, doctoral, and undergraduate class as the 2022 May Commencement Speaker.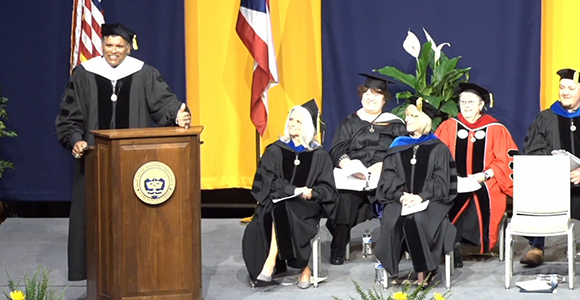 Anthony Muñoz is one of Cincinnati's true sports icons. Considered by many as the greatest offensive lineman in NFL history, Muñoz has a record of excellence that is unrivaled in Professional Football. An eleven-time NFL Pro Bowl selection, Muñoz is the only Pro Football Hall of Fame inductee in Cincinnati Bengals history.
He received a football scholarship to the University of Southern California, where he led the Trojans to the 1978 National Championship. Throughout his career at USC, he earned All-American and All-Conference awards.
Despite his skill and brilliant performance, Muñoz battled multiple injuries, including three knee surgeries that almost ended his career. His faith, family and sheer will helped him overcome the setbacks. His diligent workout routine and commitment to fitness paved the way for a remarkable 13 year professional career, missing just three games in his first 11 years in the NFL.
"My plan didn't go exactly the way I was designing it; adversity hit me in college," said Muñoz in his commencement speech to the undergraduate graduating class. "Out of my four years at USC, three of those years I went through a knee operation—two on the right, and one on the left. We'll have naysayers in our life, people will say, 'well I don't think you can do that,' and I'm sure all of you will say, 'oh, let me show you I can.'"
Through the work ethic and responsibility that his mother showed Muñoz and his family at home growing up, in addition to mentoring he had from teachers and coaches, he still held a passion to rehab after the third knee operation to see if an NFL team would give him an opportunity. After his third knee operation his senior year, Muñoz played one game, and sure enough, he got a chance to attend an NFL camp and was drafted as the third-pick in the entire Cincinnati Bengals draft.
Through his trials and tribulations, Muñoz made the choice to not let challenges overtake him, and asserted that we must make choices to work through it and stay motivated. In conclusion, he provided a profound reflection for MSJ graduates to go forth with as he neared the end of his speech:
"Committed versus Interested:
When you're committed, you find a way. When you're interested, you find an excuse. When you're committed, you do whatever it takes. When you're interested, you do what's convenient. When you're committed, you do it consistently, when you're interested, you do it occasionally. When you're committed, you take accountability, when you're interested, you point fingers and shift blame. As I look out for the graduating class of 2022, my bet would be on the word, 'committed.'"
On behalf of Mount St. Joseph University, congratulations, Class of 2022! As new alumni, we encourage you to go forth in Lighting the Way through your knowledge, service to the greater good, and leadership within your communities.
Click below to watch Anthony Muñoz's compelling commencement speech: