MSJ Exercise Science students, Michael Radcliffe and Lauren Boland accompany Dr. BC Charles-Liscombe on Channel 12, "What's Happening in Health" Series to share information on strength training exercises to increase longevity.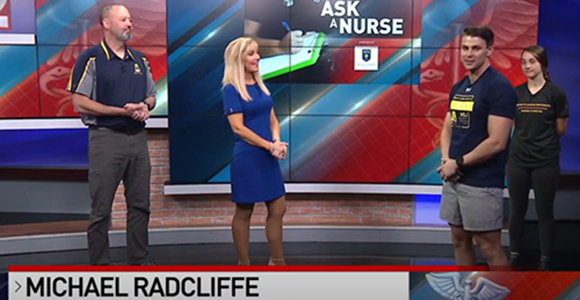 Radcliffe is currently a personal trainer, and Boland says she plans to attend Physical Therapy school after graduation. All MSJ members share pertinent information on floor strength training exercises that individuals can do at their leisure for the upper and lower body with no equipment.
According to a recent report from the British Journal of Sports Medicine, researchers found that adding just 30 to 40 minutes of strength training a week was associated with a 20 percent decrease in dying early from all causes.
MSJ Chair and Associate Professor in the Department of Exercise Science and Integrative Health, Dr. BC Charles-Liscombe, Ed.D., ATC emphasizes there's no right number of repetitions, just what works for you.
"If you can do five, do five, if you can do ten, do ten. If you're doing more than 15, maybe take a break, do something else, and come back," he advises.
The Bachelor of Science in Health and Exercise Science provides students with a variety of skills. Through his coursework, Radcliffe finds he is more conscientious of his daily habits to make more informed, healthier decisions.
The program provides four available concentrations, including Clinical Exercise Science, Sports Performance and Active Aging, Health Promotion, and a Health and Exercise Science 3+2 Master of Athletic Training program.
"It's opened my eyes to a lot of things you don't notice, from what you eat, to how you spend your day," says Radcliffe. "Just consciously going through the day and saying you know, am I doing everything that I should be doing to be healthy?"
Discover Your Pathway Today
Interested in promoting wellness, enhancing quality of life, and increasing physical activity across the lifespan? Visit the Health and Exercise Science program page at Mount St. Joseph University.
Check out the MSJ interview on Channel 12, "What's Happening in Health" below: