Mount St. Joseph University Hosts MSJ Comedy Night in the University Theatre.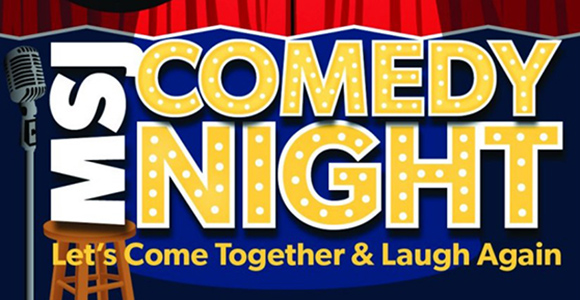 It's time to come together and laugh again with catchy tunes and inspirational stories told in comedic wit.
Mount St. Joseph University excitedly presents Comedy Night on Saturday, March 12, 2022 at 2 p.m. and 7 p.m. in the University Theatre, welcoming two clean comedians, Paul Aldrich and Sally Baucke for an affordable evening of fun entertainment.
Tickets are $20 in advance, $25 at the door, and group rates are available for parties of 10 or more.
"The Mount is known for serving our community," says Katrina Kenton, Director of Auxiliary Services at the Mount. "We wanted to meet their needs, and realized that smiles and laughter are part of a universal language of happiness! As a result, we created the "MSJ Comedy Night Series" where, every couple of months, we will bring in comedians from around the country for your enjoyment."
Sally Baucke learned early in her career as a Registered Nurse that laughter is the best medicine. She finds the funny in every day, puts her own twist on it, and shares it now with you. In her book, What Didn't Kill Me Made Me Funny, "Sally challenges us to see life as a "work in progress," where frustration and funny go hand in hand...you will find yourself laughing out loud at this true tale of a directionally-challenged, hair-obsessed, tiara-toting Royal wanna-be."
As for Paul Aldrich, a comedian, songwriter, and inspirational speaker, Paul is best known for his "funny music" and hilarious stand-up comedy that he has performed around the world. Paul has 14 projects to his credit, including his award-winning CD MOCK 'n' ROLL, and has appeared on The Huckabee Show on TBN.
There will be two show times offered at 2 p.m. and 7 p.m. for guests' convenience, lasting approximately two hours with an intermission. Guests will even have an opportunity to meet and greet the comedians after the show.
"We have an amazing line-up scheduled through Summer of 2022, and cannot wait to kick this off on November 20th," Kenton adds. "My hope is this will give our community something to look forward to, and bring us all together."
Hope to see you there!
Ticket and Contact Information
Get your tickets now for the best seats:  www.msj.edu/comedy​
Show Times: March 12th, 2022 at 2 p.m. and 7 p.m.
Location: MSJ University Theatre
Contact: Katrina Kenton, Katrina.Kenton@msj.edu or 513-244-4327 for more information.