New to the photography program, Assistant Professor Emily Wiethorn is excited for what is to come.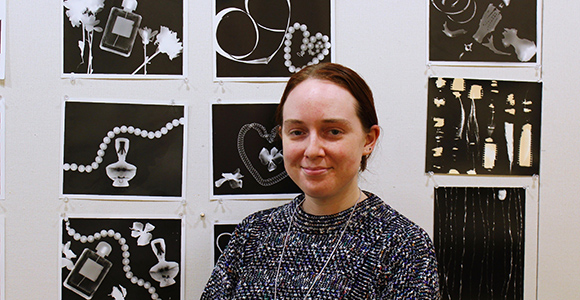 Registering for a nearly three-hour night class is generally something students avoid unless they have no choice. However, the chance to take a class on alternative film and dark room processing thrilled me. I hadn't taken a photography class in about a year and was surprised to learn that the previous teacher, John Griffith, had retired after 35 years. Like me, you may be curious about this new person is in the photography department and what might change.
Emily Wiethorn grew up in Melbourne, Ky., earning her BFA in photography at Northern Kentucky University, then continuing to University of Nebraska-Lincoln for her MFA in studio arts.
"I definitely have known since I was a teenager that I wanted to do something with photography," she says. After regretting not taking any art classes in high school, she found herself in a journalism class. Knowing she was too introverted to be the one interviewing people, she was assigned to take the photos and feels as though she "came to photography really on accident."
More than a decade later, Wiethorn continues her passion of photography by teaching it and continuing to practice in her free time. With a world so surrounded by the arts and photography, it can be hard to still find joy in your work.
"For me it all kind of bleeds in together, how I keep myself motivated to continue to make art is mostly from being at work," she says. "Just seeing you all (students) do your photographs, create your ideas, think about your concepts, that's really exciting for me to see."
Wiethorn currently has a piece on display in the Studio San Giuseppe Gallery at Mount St. Joseph University called Erma Jean. This heartfelt collection of photos is centered around her grandfather and the tragic experience he faced being a prisoner of war by Nazis.
In 2019 Wiethorn was able to travel to Barth, Germany, where her grandfather had been captured. By looking back at the photos he had taken during that time, Wiethorn was able to visit those same places.
"He was very much an amateur photographer; he was the person who had his camera within reach forever," she recalls about her grandfather. She also feels as though this piece threads together both of their passions for photography.
Despite it being on display, the collection of Erma Jean is not complete. Wiethorn feels as though it must come full circle. She says she and her father are to "go back to the site Battle of the Bulge took place… and try and map out the death march and do it together." Then she feels it will be complete, and until then, she continues to express her love for those around her in other collections.
Wiethorn's next collection being exhibited is going to take place in March at Space Place Gallery in Ural, Russia. The collection is named Love You More and is centered around her mother and their relationship. Many of her collections can be connected because her "practice focuses a lot on how we understand our identity and what affect our families have on how we become who we become."
While Wiethorn is still new to the program and getting used to balancing work and life, she is excited for what is to come. She is thankful that "John created a really robust program. I'm just taking the foundation he left behind but making it more contemporary." We look forward to what she brings to the university and her enthusiasm to teach.
Photo: Emily Weithorn in front of photos in recent exhibit.