MSJ student Evelyn Perkins introduces Stacy Decker, new director of Building and Grounds.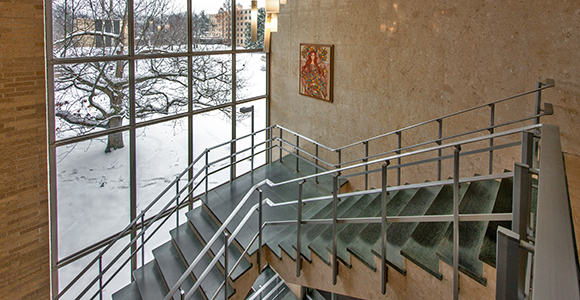 When Stacy Decker came on board as Mount St. Joseph University's Director of Building and Grounds in October 2021, he arrived during a maelstrom of viruses and constantly changing solutions to beat the bug.  We are fortunate that he is more than up to the task. 
He was kind enough to meet with me to share some information about his great staff.  Friendly, knowledgeable and helpful, the cleaning ladies have come to my rescue more than once when I couldn't find an office.  They also came to my aid when one of the elevators became stuck between floors.
Spring will be here soon, so I asked Decker if he has input about what gets planted or moved.  Although he enjoys the beauty of the flowers, plants and trees, he will leave the landscaping in the capable hands of horticulturalist Kay Hart, who worked for many years at the zoo. 
Grounds crew supervisor Rodney Morgan has been keeping the wheels turning here for about 20 years.  Dan Kaiser proudly looks upon the field house as "his building" and more than enjoys taking care of it.
Decker is wise enough not to have any preconceived ideas of making too many changes before getting the lay of the land (no pun intended).  The addition of sanitizer wipes by the doorways, the elimination of sign-in sheets on the rest room doors that recorded the frequency of cleaning, the hiring of an in-house plumber and a part-time custodian (more custodians are needed) are just about all the noteworthy tweaks he has made so far.  He trusts his staff and feels he inherited a good team, dedicated to Mount St. Joseph.
Decker has a master's degree in Human Resource Development as well as a degree in Sports Management from Xavier University.  He formerly worked at Miami University's main campus, doing much the same as here, but having many more employees there precluded him from being as familiar with all of them as he has here where it's smaller and everyone is friendly.  He feels that a supervisor should help take the pressure off people and try to alleviate fear.  He likes to sit down and talk face to face with the work force. 
Decker and his crew arrive for work at 7 a.m.  He stays until 5 or 5:30 p.m.  Of course, COVID has presented challenges as it has for everybody, but his team tries to stay ahead and balanced to make people feel safe.