MSJ physical therapy graduate, Chris Chirumbolo, '99 responded to the COVID-19 pandemic with urgency and care.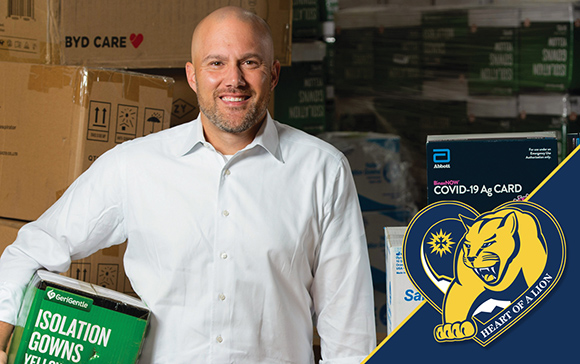 Chris Chirumbolo '99, is fueled by the connections he makes with others. That passion for people is what led him into a career in physical therapy with seniors and what compelled him to take on positions in management.
That mindset led Chirumbolo to his role as CEO of Carespring Health Care Management. Initially inspired to pursue sports physical therapy following his own high school sports injuries, Chirumbolo discovered his passion for working with seniors during clinical internships as a student at the Mount.
"As I've told my own students when I've led clinicals: 50 percent of physical therapy is building rapport and trust with the patient," he says. "I'm also a history buff, so listening to patients' stories while you are taking care of them and getting them better was always fascinating and expanded my desire to work in geriatrics."
As the top executive of Carespring, which includes 13 long-term care facilities, Chirumbolo felt the weight of his role when the Pandemic threatened employees and the residents of Carespring—senior populations are particularly vulnerable to COVID-19.
"Professionally, it's the most challenging thing I've ever been through," Chirumbolo says. "There were so many things out of your control. There was so much no one knew, especially at the start of the Pandemic, and you're just trying to do the right thing."
When Carespring saw their first COVID-19 case in late March 2020, some worried staffers were afraid to come to work. Chirumbolo and his leadership team donned their masks and temporarily jumped in to fill the gap on the frontlines. He spent every night as the Pandemic unfolded reviewing the latest data and guidance for long-term care facilities, and consulting with his team on how to best forge ahead. The nationwide shortage of personal protective equipment (PPE) led Chirumbolo to spend hours every week for months procuring PPE to protect the staff and residents.
Ohio's governor created regional pandemic coordination zones to improve collaboration among health care entities. Chirumbolo was tapped as the co-chair of the congregate care/living committee, which met virtually for 10 to 15 hours a week to share data and update plans to assist in the operation of the region's elderly care facilities.  
Throughout it all, Chirumbolo sought to maintain connection with the Carespring community through frequent communication.
"The frontline staff are the unsung heroes of the Pandemic," he says. "I've tried to be as transparent as possible. I assisted with meetings with the buildings and emailed everyone in the corporation with ongoing updates because I want them all to see what we're doing, what we're going through, how we are advocating, so everyone feels like they are part of the team and the solution."
He recognizes how critical it has been throughout the pandemic to keep morale up for the residents and the employees of Carespring. Instead of dwelling on what they can't control, Chirumbolo emphasizes the successes.
"We have to celebrate one step at a time, because you can't just fix it overnight," he says.
When vaccines became available, Chirumbolo and his team addressed any questions or hesitations among the residents and staff individually. They opened their vaccine clinics not just to residents and staff, but to their families and anyone else in the community seeking a vaccination.
"It's a positive to know that we've vaccinated thousands of people, including hundreds of people that don't even work for us," he says.
Although leading the company doesn't allow daily patient engagement, Chirumbolo remains driven in his goal of helping others, which often includes identifying career growth opportunities for as many Carespring staffers as he can reach.
"As a physical therapist, you make a direct impact every day on the patients you take care of, but I had the mindset that I wanted to make a bigger impact on more people, not only the patients, but our families and our team members in our buildings," he says.
Chirumbolo has worked at Carespring for his entire career, beginning as a physical therapist and later moving to management positions in rehabilitation services. He was named COO in 2013 and CEO in 2016. He was honored with the Mount's 2017 Future Five leadership award and named one of Cincinnati Business Courier's "40 Under 40."
Chirumbolo earned two Mount degrees: his bachelor's in Rehabilitation Sciences, summa cum laude, in 1999, and his Master's in Physical Therapy in 2000. He was an adjunct professor at the Mount and the coordinator of clinical education for Carespring with local universities. Outside of work, he spends time with his wife and their two sons, often watching their kids' sports teams or a Reds or Bengals game.
Chirumbolo leveraged his MSJ experience to better the lives of his employees, patients, their families, and the community in the midst of a pandemic—Heart of a Lion, indeed.
Are you people-oriented with a strong desire to promote optimal quality of life for others? Consider the Mount's Doctor of Physical Therapy program to see how you can pursue this healthcare field, like Chris.