Alexandra Wall applies her skills as a former undergraduate athlete into her Physician Assistant graduate coursework and small class sizes at Mount St. Joseph University.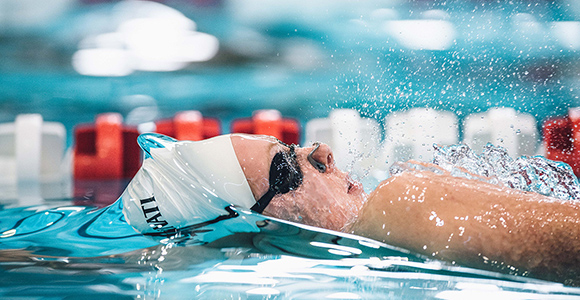 Alexandra Wall '23, former swimmer at the University of Cincinnati carried over her collegiate athletic skills into her Physician Assistant graduate coursework and small class sizes at Mount St. Joseph University.
Graduating with a Bachelor's of Science in Health Sciences in the spring of 2020 with a concentration in physiological science, Alexandra decided to pursue her graduate studies at the Mount's Physician Assistant program, where she went from a large campus, to a small one.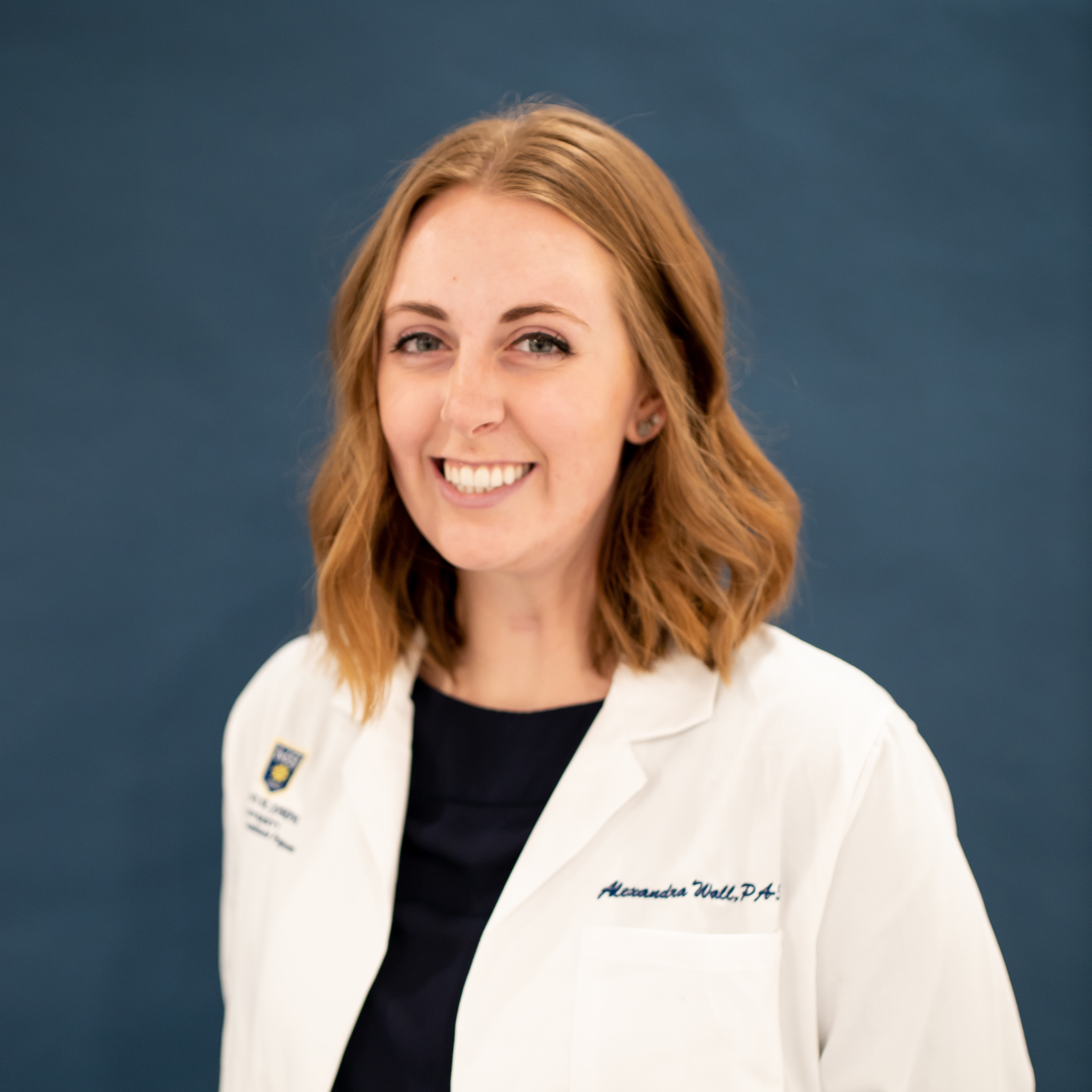 Photo: Alexandra Wall, '23
A UC swimmer who graduated a few years before Alexandra was in the inaugural Physician Assistant class at the Mount. She asked him a lot of questions, kept in touch with how school was going, and decided that the Mount would be her top program choice when she began applying through CASPA (Centralized Application Service for Physician Assistants).
"For me, MSJ is the perfect fit.  It is a short drive from where I live, I am able to stay near my family for support, and pursue becoming a PA-C all within 15 minutes of where I grew up," says Alexandra. "I also hope to one day be a practicing PA in the Greater Cincinnati area, so making professional connections in this area was a very attractive draw to come to school at MSJ!"  
Transition to a Smaller Campus Creates Community Atmosphere
Walking through the parking lot and hallways of the Mount, Wall is greeted every morning with "hello's," "good morning's," and smiles from faculty and students. In comparison to her previous time at a larger campus, Alexandra found the Mount's smaller campus to provide her with a strong feeling of community.
"Smaller class sizes, personal relationships with professors, and designated PA classrooms were drawing factors during my application process as well," she says. "All in all, a smaller campus feel has been a new but rewarding experience."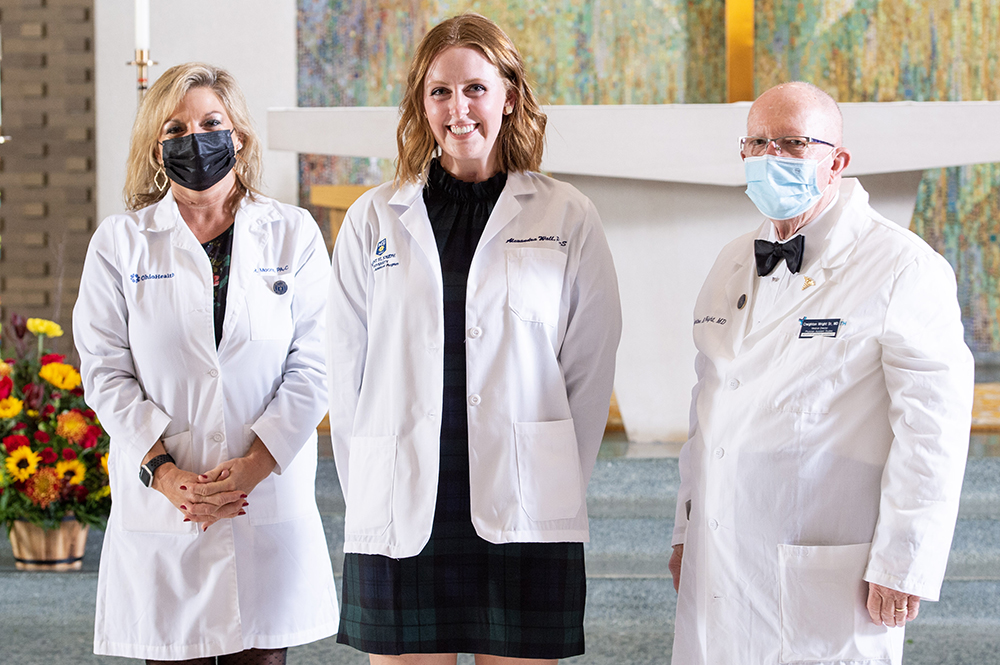 Photo: Alexandra Wall at PA White Coat Ceremony.
Upon entering the Physician Assistant program, each student is paired with a faculty member as a mentor and advisor. For Alexandra, it was comforting to know that she had a direct line of communication with a PA faculty member from the first day of orientation through past graduation.
"The PA program is very structured as far as course schedule, clinical rotations, and time on campus goes," she asserts. "Typically speaking, for our first year, we were on campus 8 a.m. to 5 p.m., with an hour lunch break and a few shorter breaks between classes. This helped me acclimate well to the expectations, as I have always had a structured schedule with classes, swimming, workouts, and homework throughout high school and undergrad."
Former Collegiate Athlete Skills Translate to the Classroom: Discipline, Communication, & Time-Management.
When reflecting on her collegiate athlete days as a university swimmer, three immediate skillsets that come to mind for Alexandra include: discipline, time-management, and communication.
Discipline was important for holding herself accountable in the pool and during practice, and this directly carries over to the classroom with disciplined studying.
Time-management was another key component to Alexandra's success. "I was usually scheduled in the pool for 2-4 hours a day and then had anywhere from 1-5 classes in any given day," she reflects. "I had to budget time daily for practice, class, lunch, dinner, studying, homework, etc.  Again, this carries directly over to my time now in PA school; budgeting my time accordingly has helped me to stay organized and ahead of my school work."
Lastly, open and honest communication with Alexandra's peers, coaches, and professors has been the key to her success and further development, whether it be in the pool, in the classroom, or beyond.
MSJ Campus Contributions
Alexandra's involvement on campus led to an array of volunteering opportunities. She was elected President of the Sister O'Connell Physician Assistant Student Society (SOPASS) during her first year in the program. As the president, Alexandra worked with her class to organize many PA student volunteering opportunities, PA week activities, a BeTheMatch bone marrow registry event, an items drive for a local emergency/homeless shelter, as well as staying in communication with her class to keep them up-to-date on the happenings within the department.
Her expected graduation from the Physician Assistant program at the Mount is spring of 2023.
Interested in hands-on patient care? Be sure to check out the Mount's School of Health Sciences page to learn more about our healthcare offerings.