Three Mount wrestlers placed in the top four in the prestigious Pete Willson Invitational at Wheaton College, while Cornell Beachem made a statement as the #1 174lb DIII wrestler.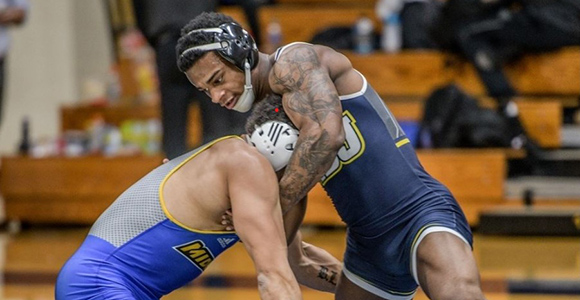 WHEATON, Illinois - The Mount St. Joseph University wrestling team traveled to Wheaton College to compete in the prestigious Pete Willson Invitational. The Invitational had over 30 teams present and the Lions were able to place 11th. Three Mount wrestlers were able to place in the tournament all in the top 4. 
Cornell Beachem
 (Cincinnati, Ohio/Winton Woods) continued his perfect season and was crowned the champion in the 174lb weight class. 
Antonio McCloud
 (Cincinnati, Ohio/Elder) was one win away from a championship but fell just short placing 2nd. Finally, Nathaniel "Cookie" Armstrong (Dayton, Ohio/Alter) battled his way to the 3rd place match in the 197lb weight class but fell leaving him to place 4th. The Lions as a team placed 11th in the Invitational. 
To start, in the 141lb weight class 
Desmond Diggs
 (Xenia, Ohio/Xenia) fell to #9 Jacob Reed from Ohio Northern but would bounce back quickly winning his next two matches. Diggs won his first match in overtime followed by a 4-2 decision victory. But, Diggs would fall just short of placing after dropping his 2nd match of the tournament. 
Next for the Lions was 157lb 
Roger Dylan Deck
 (Hamilton, Ohio/Hamilton). Deck had momentum early in the tournament taking down his first opponent by a major decision. Deck would then drop his next match but would respond nicely with a technical fall victory. But, Deck would drop another match ending his weekend in Wheaton. 
Cornell Beachem
 followed Deck and as usual did not disappoint. Beachem was dominant in his first two matches pinning both his opponents in the first period. Beachem then would take care of business in the quarterfinal match defeating his opponent 8-4 setting up a great semi-final matchup versus #14 Daniel Devera from John Carroll. Beachem was dominant defeating Devera after he had to leave with an injury as Beachem advanced to the championship match. Beachem went down early, 2-1 but responded quickly defeating Demitreus Henry from Cortland State by a 10-5 decision. Beachem kept his perfect season alive as he made a statement as the #1 174lb D3 wrestler. 
Antonio McCloud
 was up next for the Lions. McCloud was near perfect on the day winning his first match by a major decision 16-2. McCloud followed with a pin and two 3-1 decision victories placing him in the 184lb championship match. Here #6 McCloud would take on #5 Jaritt Shinhoster to take home the hardware. McCloud would fall just short but would place 2nd against some tough competition. 
Nathaniel "Cookie" Armstrong was the next Lion to take the mat. Armstrong started off nicely with a 15-4 major decision victory but would drop his next match to #11 Brandon Homsey from Ferrum College. This wouldn't stop Armstrong as he put together three straight victories including one major decision and two decisions to reach the 3rd place match. However, Armstrong would come up short in the 3rd place match leaving him placing 4th. 
Finally, 
Gary Powell
 (Mt. Orab, Ohio/Western Brown) was the last Lion to take the mat in the heavyweight class. Powell would drop his first match but would respond with a pin in the 2nd period of his 2nd match. But, Powell would fall again ending his weekend. 
UP NEXT: 
Please continue to tune into msjlions.com for coverage of your MSJ wrestling team and all MSJ Athletics.