The biennial Selections 2021 exhibition concludes on December 16 in the Studio San Giuseppe Art Gallery.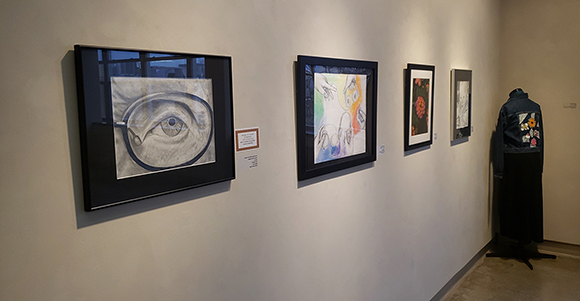 The Department of Art & Design at Mount St. Joseph University welcomes all students, teachers, parents, and friends to the biennial Selections 2021 exhibition before it concludes on December 16 in the Studio San Giuseppe Art Gallery.
Selections 2021 is the twentieth, and the region's longest continuously running, biennial exhibition of art works created by talented regional high school students as selected by their equally dedicated art teachers. The public is cordially invited to come to campus during the dates of the display, to view the exhibition.
Tri-State art teachers were invited to submit two artworks each, in any media, that were recently produced in their junior/senior classes and were representative of the quality of their art programs. This exhibition highlighting these artworks is a continuing commitment by Mount St. Joseph University to recognize and support the artistic endeavors of young people in the community, and to salute the excellent art teachers and art programs in area schools. This year, the participants in the exhibition include: 27 schools, 43 teachers and 78 students. This year, four scholarships were offered to students who submitted an application to these awards.
About MSJ Arts
Mount St. Joseph University is well-known and respected for a tradition of educating professional artists, designers, and art educators. It is only fitting that on campus, the Mount celebrates high school art programs representing this Tri-State region.
"Being an art student at Mount St. Joseph University has given me the space to express myself in a welcoming community," says graphic design sophomore and Selections 2019 scholarship winner, Marie Specker. "I have been given opportunities to make connections with successful artists throughout the city of Cincinnati. The professors push me to think outside of the boundaries, and give critical and helpful feedback. I've been able to make close connections with my classmates and professors in the smaller atmosphere that the Mount has to offer."
Gallery Hours:
Covid Update: Masks are required inside all buildings on campus.
Monday through Friday 10 a.m. – 5 p.m.
Saturdays and Sundays 1 p.m. – 5 p.m.
Studio San Giuseppe is a nonprofit art gallery located in the Dorothy Meyer Ziv Art & Design Building on the campus of Mount St. Joseph University, at the crossroads of Delhi and Neeb in Delhi Township, 15 minutes west of downtown Cincinnati.  Admission is free. For more information, call Studio San Giuseppe at 513-244-4314. www.msj.edu/ssg