Several campus members weigh in on their Thanksgiving traditions.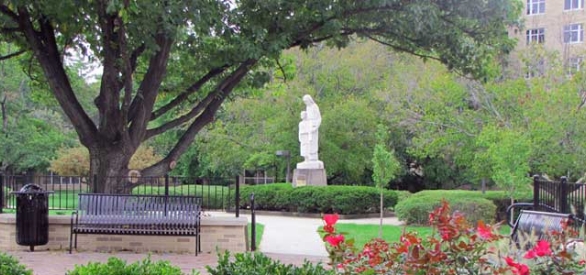 Imagine this:
You get to the relative's house that opens their home for Thanksgiving dinner, and it may still be slightly warm outside. You're sitting there and everyone is laughing and catching up. There may be some family in the kitchen still helping or cooking Thanksgiving dinner. For some families, dinner may be early or late, an hour ahead, or two hours behind. Either way, the food will get done, and everyone is going for the Mac 'n' Cheese, and it is a race against everyone else. You've probably had two plates at this point, and the next thing on the Thanksgiving agenda is taking a nap, but first, you have to get home and beat the cold.
Everyone, Thanksgiving is on our tail like a driver in a rush. Burnout is here at this point in the semester, but we have a Thanksgiving break on our side. Everyone has their family traditions and way of celebrating.
Brook Batch, Creative Project and Research Coordinator, celebrates with family at her aunt's or grandpa's house. A memory of hers during Thanksgiving is when she was younger.
"My siblings and I would like to sit down and look through the Black Friday ads, circling all of the things we wanted, before or after the Thanksgiving meal," she says.
Batch's family also has a Christmas tradition that starts on Thanksgiving: "We randomly draw a family member's name from that hat and we have to make them a Christmas gift, calling this tradition a Make-A-Gift. We make the present then give it to our person at Christmas."
Freshman Keegan Brown will spend family with his uncle or great aunt's house, depending on that year's location. The amount of family that attends Thanksgiving constantly varies due to busy life schedules and commitments.
"This year is going to be a small Thanksgiving, but still Thanksgiving nonetheless," he says.
Freshman Kenlee Latchford sees multiple families on Thanksgiving.
"My dad cooks the turkey. My youngest uncle cooks the ham. My grandma makes the mashed potatoes, gravy. She makes all of the sides. My mom makes sweet potato casserole, which is my favorite," she explains.
Kenlee also spends Thanksgiving with her boyfriend and his side of the family.
When she goes to her other mom's side, they pray and like to say what they're thankful for. They also like to play card games and gather newspapers and magazines and cut out what they want. Then, they will go online and get coupons and shop for what they want.
Everyone has their way of celebrating Thanksgiving, and I hope yours is a good one. Savor every minute of the break as well, and remember to take time for yourself. Christmas beak is around the corner!