Mount St. Joseph University (MSJ) hosted its fourth annual business competition for local high schools on Friday, November 12.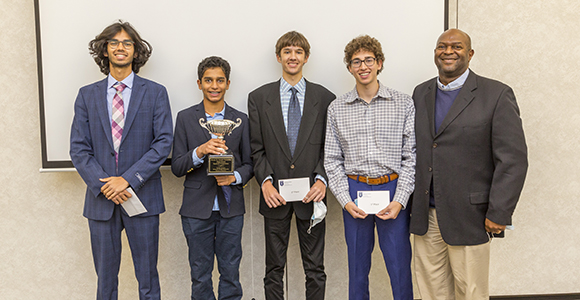 CINCINNATI – Mount St. Joseph University (MSJ) hosted its fourth annual business competition for local high schools on Friday, November 12. Teams from Colerain High School, Sycamore High School and William Henry Harrison High School participated in the competition in the new MOSAIC Center on MSJ's campus.
The competition was organized by Assistant Dean and Associate Professor in the School of Business, Dr. Cindy Veraldo along with help from President of the Students in Business Club, Joshua Bailey, and Collin Yost, the School of Business' co-op student worker.
"The ultimate goal is to give these high school students real life career experiences, by creating business plans for entrepreneurial endeavors," said Dr. Veraldo. "We also like to bring high school students on campus so they can get the opportunity to tour campus and see what Mount and the college experience is all about."
A few months before the competition, the Mount gave each team an outline to develop a business plan and rules of the competition, then they divide up into teams and go to work.
This year each team was given a fictitious 2 million dollars to spend on creating a family-friendly entertainment venue in the Greater Cincinnati area. They were tasked to write an executive summary and come up with a 15-minute presentation of their business plan to the judges. The judges then had 5 minutes to ask questions at the end of each presentation.
Judges of the competition were Jackie Reau, CEO of Game Day Communications; Rico Rice, President of Rice Education Consulting; Sharon Wagner, Dean of the School of Business at Mount St. Joseph University; Jeff Wampler, Vice President of Marketing and Communications at the Mount; and Corey Watt, Director of the Career and Experiential Education Center.
Sycamore High school won the competition by creating a business plan to develop visual technology (goggles) that would transport individuals and families to anywhere in the world where they can explore using imaging produced in partnership with Google Earth. Members of the winning team were Umaansh Parashar, Jason Lucas, Palash Kapoor, Luke Uhlman and Darius Powell was the educator.
Colerain High School placed second with a plan for a paint factory where families can come for paint wars, paint archery, painting classes, paint parties, etc. The Mount gave each team member on the first-place team a $200 Visa gift card, and $100 to the second-place team members.
In addition to the gift cards, the Mount offered scholarships to the high schoolers. The first-place team members receive a $1,000 scholarship if they choose to attend MSJ, and second place participants would receive a $500 scholarship. The 1st and 2nd place prizes and lunch for all of the participants were sponsored by the Institutional Advancement Office at the Mount.

About the Mount
As a Catholic institution rooted in the values of the Sisters of Charity, Mount St. Joseph University excels at serving the common good. Undergraduate, graduate, and doctoral students at the Mount are inspired to think beyond the classroom and redraw the bounds of what's possible for their futures. This is accomplished through individualized educational experiences, a safe, secure campus environment, and an all-in commitment from faculty and staff to inspire students to reach their highest potential. The Mount fosters life-long learners who serve, care, and contribute to the world beyond their front doors. To find out more, visit: www.msj.edu.
###