Empowered to impact patient care, MSN graduate Chima John, '19, R.N., C.P.N., C.C.M. is an advocate for meeting healthcare needs within the hospital and beyond.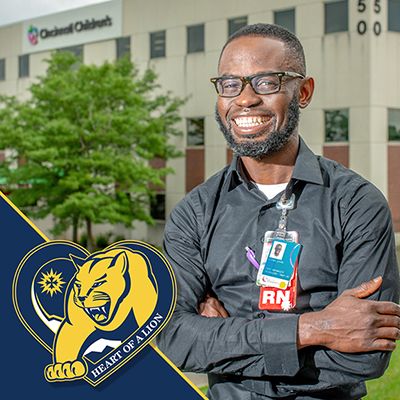 When patients at Cincinnati Children's Hospital Medical Center (CCHMC) need help, they look no further than Chima John '19, R.N., C.P.N., C.C.M.
"I'm an advocate and they trust me," says the CCHMC care manager, who earned a Master of Science in Nursing from the Mount. "I help families navigate the complexities of the health care system, from managing their appointments and doctor recommendations to understanding a complex or chronic diagnosis. It's challenging but rewarding because I'm able to see what piece of the puzzle I can help them solve."
John's efforts to help families go far beyond hospital walls. He also connects them to a variety of resources, including community agencies and food banks, as well as managed care organizations such as Medicaid. His work as an advocate also involves participating in care conferences and even providing necessary documentation and input related to patients' individual education plans in their schools.
"As a care manager, I can influence a patient's success from several perspectives within the health care framework," says John.
Earning his Master of Science in Nursing from Mount St. Joseph University to help improve patient outcomes is only one part of his longstanding relationship with his alma mater. He also earned his undergraduate degree in nursing from the Mount and began his career at CCHMC as a student co-op. His work resulted in his being named a finalist for the Co-op Student of the Year Award at MSJ. In addition to the many friends he met at the Mount, John also met his spouse, Abbi, while working at CCHMC.
"The Mount really is like my extended family," he says. "The instructors in the M.S.N. program are incredible because they empowered me to believe that I can make a difference in my patients' lives."
John chose the administrative track in the M.S.N. program because his future career aspirations include being in a leadership role. He is grateful for the many amazing nurse managers and role models he has worked with, and he looks forward to one day offering the same level of support and empowerment he received.
To view more of Mount St. Joseph University's Heart of a Lion stories, visit Heart of a Lion to read personal accounts of overcoming, defending, and of daring to risk a caring response.