Mount St. Joseph University demonstrates commitment to engage students to vote.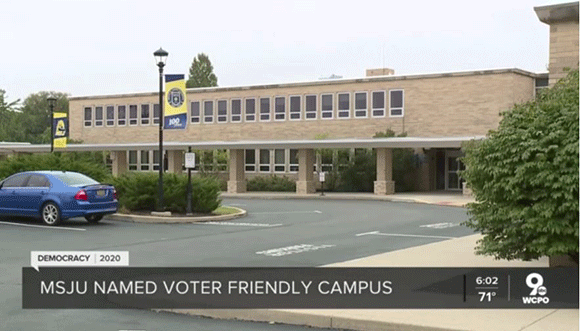 Mount St. Joseph University is 1 of 125 institutions to be nationally recognized as a Voter-Friendly Campus, as 65 percent of the student body voted this election year.
This recognition comes from the nonpartisan Fair Elections Center, a nonprofit dedicated to increasing voter participation, and its Voter Friendly Campus initiative.  The mission of the Voter Friendly Campus designation is to bolster efforts that help students overcome barriers to participating in the political process. 
The Mount is the only institution in the Greater Cincinnati area to receive this designation, and has received the voter-friendly designation for three years. The Mount makes the process easy for students by registering them to vote during their student orientation. Keith Lanser, Associate Director of Service Learning and Civic Engagement, oversees the voter engagement program at the Mount to keep students invested in the process.
Thus, the rest of fall will include emailed reminders and instructions, classes on finding a polling place and understanding ID requirements, and a series of socially distanced forums at which students can discuss the issues that matter most to them.
"Students are going to be coming to these forums, talking about topics that are really important to them," Lanser tells WCPO. "Topics like racism and white supremacy, student hunger and student homelessness; COVID-19 and health care issues; but also LGBTQ issues. These are all issues our students told us they want to talk about."
"How Mount St. Joseph University Succeeds at Turning Students into Voters"