Learn about the exciting spring offerings for Theatre Arts at Mount St. Joseph University.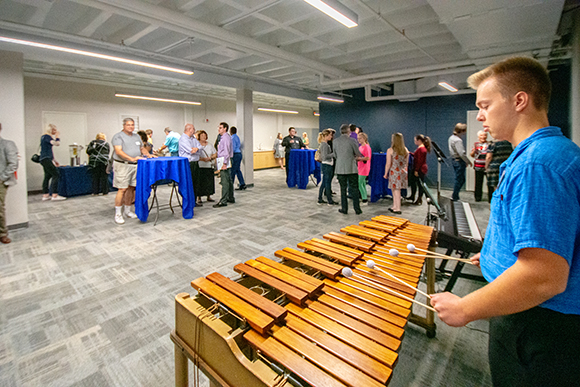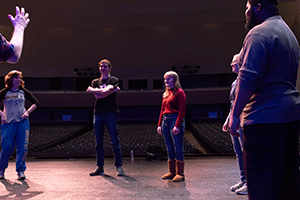 With a long-standing tradition at Mount St Joseph University, Theatre is now expanding to include the MSJ Theatre Arts Program. The program will be comprised of three parts: Theatre Lab, Productions, and Classes.
Our student group, Theatre Lab, meets weekly throughout the semester offering theatre-lovers the opportunity to play fun theatre games, meet new friends, and most importantly, to make theatre. Theatre Lab holds events thought out the semester, like Zombie Night (where students presented a zombie character they crafted over several weeks to compete for prizes). Periodically throughout the semester, students will visit theatre productions at local theatres such as the Know, Cincinnati Shakespeare Company, Ensemble Theatre, and the Cincinnati Playhouse in the Park. 
The Mount has three shows in its production season (a full length new play in the fall, a shorter classic work in early spring, and a full length musical in the end of spring). The 2019-20 school year will see the program offering a three show season produced by Mount student-artists. The plays include Who's Afraid of Virginia Woolf, The Importance of Being Earnest, and the musical Schoolhouse Rock Live! 
Many wonderful theatre topics classes are offered at Mount St Joseph University, including topics from Contemporary Drama, Shakespeare, and an Honors Cincinnati Art Scene course. Starting in Spring 2020, Theatre Arts courses will be offered, such as Acting Workshop.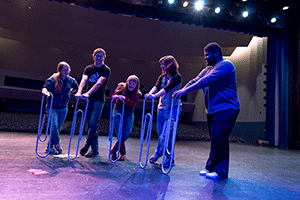 The best part of MSJ Theatre Arts is that anyone can be involved. At the Mount, everyone is welcome to participate regardless of your major. If you have a real passion for theatre, but do not plan to pursue it as a career, Mount St. Joseph University is a great place to give you the tools to continue to be involved in theatre.
MSJ Theatre Arts is led by Richard Buchanan, who comes to the Mount having already established himself as an actor, director and educator. Buchanan will also serve as an adjunct faculty member teaching theatre arts class starting Spring 2020 with ENG 150 Acting Workshop.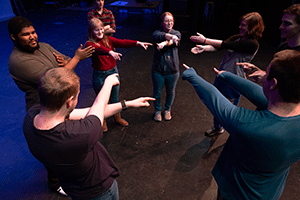 "I am thrilled to have rehearsals for the Importance of Being Earnest and Schoolhouse Rock Live!," says Buchanan. "It feels like all the time we spent planning in the fall is finally coming to fruition. Our student-artists are working hard and I think our audience is in for a real treat. Please check out our facebook, and like the page, to get regular updates about our upcoming events."
The MSJ Theatre Arts Program, embedded in the music department, has a brand new rehearsal room, located under the University Theatre, featuring two performance venues: the 92 seat Recital Hall and the 1050 seat University Theatre. These spaces as well as rehearsal rooms are available for student-artists to practice their craft.
Want to get into character at MSJ Theatre Arts?
Click below and fill out the recruiting questionnaire, and Richard will be happy to reach out to you and share all of the information about MSJ Theatre Arts, including potential scholarship opportunities.
​Check out our facebook for upcoming events: https://www.facebook.com/Mount-St-Joseph-University-Theatre-Arts-1999275303653667/?ref=bookmarks
Take a peek behind the scenes on Instagram: https://www.instagram.com/msjtheatrearts/
Theatre Arts Schedule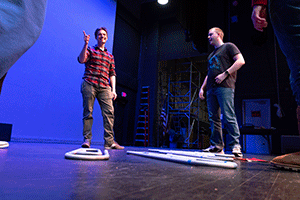 Winter Play
The Importance of Being Earnest
Performance Dates:
February 28-29, 2020 at 7 p.m.
March 1, 2020 at 3 p.m.
Synopsis: The Importance of Being Earnest is the most renowned of Oscar Wilde's comedies. It is the story of two bachelors, John 'Jack' Worthing and Algernon 'Algy' Moncrieff, who create alter egos named Ernest to escape their tiresome lives. They attempt to win the hearts of two women who, conveniently, claim to only love men called Ernest. The pair struggle to keep up with their own stories and become tangled in a tale of deception, disguise and misadventure. The elaborate plot ridicules Victorian sensibilities with some of the best loved, and indeed bizarre, characters to be found on the modern stage.
Tickets: $12 General Admission: $7 with Mount ID. Purchase at the door or reserve Cash or Check accepted. Contact Betsy Jones for tickets (Betsy.jones@msj.edu 513-244-4863) or purchase at the door
Spring Musical
Schoolhouse Rock! Live
Performance Dates:
April 3-4, 2020 at 7 p.m.
April 5, 2020 at 3 p.m.
Synopsis: A pop culture phenomenon comes to the musical stage in Schoolhouse Rock Live! The Emmy Award-winning 1970s Saturday morning cartoon series that taught history, grammar, math and more through clever, tuneful songs. Schoolhouse Rock Live! follows Tom, a nerve-wracked school teacher who is nervous about his first day of teaching. He tries to relax by watching TV, when various characters representing facets of his personality emerge from the set and show him how to win his students over with imagination and music through the songs we know and love.
Details for tickets coming soon.
Spring Theatre Showcase
Description: Theatre students will share theatre projects they have been working on over the course of the semester. Free admission.
ENG 150 Acting Workshop
Mondays at 6:30-9:20 p.m. in the Recital Hall
Description: Students will explore the process from early rehearsal to final performance. This course is for any student who wants to improve their confidence, fluency, and expressiveness in communication. No experience or "talent" necessary, only a willingness to take risks, learn about yourself and have fun! Code: LAS
Theatre Lab
Fridays at 3-4:30 p.m. in the University Theatre Stage

Description: Students are invited to join Mount St Joseph University's Theatre Lab to play Games, meet friends, and make theatre. If you have ever enjoyed doing theatre in the past, or would like to try it in the future, here is your chance to learn more about upcoming theatre opportunities at MSJ. We will play some of our favorite theatre games and discuss spring activities.
For more information or questions, please contact Director of Theatre Arts, Richard Buchanan at richard.buchanan@msj.edu