Now is the perfect time to visit the Mount!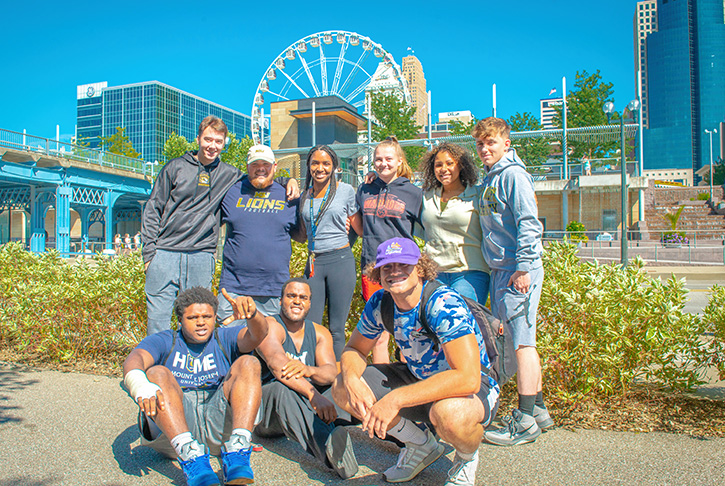 For 100 years, Mount St. Joseph University has prepared students to lead within their businesses, their communities and their families. Located 15 minutes from downtown Cincinnati, MSJ is a close-knit campus with big city access. Whether you're looking for personal attention, student activities, or strong career prospects, you'll find it here.

Personal relationships with world-class faculty
Thanks to our 11-1 student-faculty ratio, every student gets the personal attention they need to succeed. At the Mount, faculty know their students by name and work to bring out the best in everyone.

Career Prospects
In 2018, our graduates posted a 98.2 percent Career Outcomes rate, which means that nearly every single student found meaningful work, volunteer opportunities, or graduate programs after graduation.

Robust student life
We might have a small campus, but there's a lot going on here. With more than 70 teams and student organizations, everyone has the opportunity to get involved.

When you combine all of these factors, it's no wonder that we were recognized as a College of Distinction in 2018.

Schedule Your Visit:
Check out these opportunities to come to campus. Whether you want a private tour or an action-packed group event, we have an option for you.
Discover the Mount: November 11th- Full-morning, high-energy visit to campus which includes a tour, group presentation, and an academics & activities fair. Great for a first visit to campus.
Saturday Visit: December 7th- Two-hour, casual visit to campus, which includes a tour and a group presentation. Great for a second visit to campus or if you're short on time.

A private education made affordable.
Would you believe that the average scholarships and grants received by full-time first-year students in 2018 was $20,732? We might be a private institution, but we're committed to keeping our tuition affordable for all deserving students.